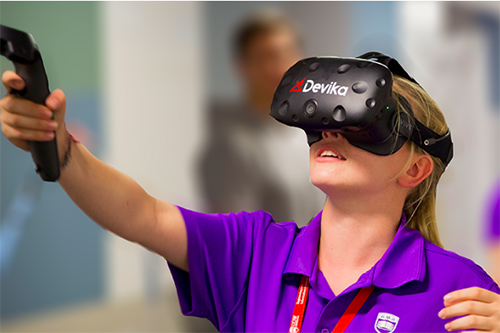 Whether it's a geography teacher taking students on a virtual tour of foreign countries or a careers teacher using augmented reality for workplace training, the use of virtual reality (VR) is seeing educators expand learning for horizons in big ways.
To encourage wider adoption of this technology, one emerging tech start-up has been working with Dr. Shiva Pedram at the University of Wollongong (UOW) to deliver a study to better understand how VR experiential learning can help teachers.
The UOW study looked at over 120 students in grades 5-11 across Illawarra who trialled the immersive experience of Antarctica with Kolb in 2018.
The schools included Sherwood Hills Christian School, St Joseph's High School, Figtree High School, Mount Ousley Public School, Dapto Public School and Warilla High School.
Devika – a start-up focused on transforming industries through emerging technology – has been working to introduce Virtual Reality (VR) to Australian classrooms to make experiential learning software accessible to students nationwide.
Its CEO and founder, Ken Kencevski, said the use of VR technology in Australian classrooms was underutilised.
"Virtual reality is making its way into the education stream and while it is an exciting platform to use, its relative newness often results in hesitancy when it comes to adoption," Kencevski said.
"The impact of VR in the classroom can be transformative and we're trying to encourage Australian education to embrace it more robustly."
Kencevski said the findings of the UOW study demonstrated that experiential learning through VR can help teachers accommodate each of their students different learning styles, and introduce students to firsthand scenarios they wouldn't have otherwise been able to experience.
The study found that students content related performance was enhanced by 37% after the VR learning experience.
Devika's VR learning app 'Kolb' uses VR headsets to transport students to Antarctica where they can experience the sights and sounds of the landscape and ecosystem of the world's harshest environment.
Students get to navigate different scenarios of the inhospitable continent, in line with curriculum content. It has already been trialled at six schools in the Illawarra in NSW with outstanding success.
Kencevski said that while the app currently consists of one scenario (the Antarctica experience), Devika plans to create an array of scenarios, all mapped to the high school learning curriculum.
Devika offers free trials of Kolb to any interested schools and the VR app is available globally for download on Viveport, Oculus Store, Microsoft Store and Steam VR. It has already been downloaded over 14,000 times.
Kencevski said that although they had only trialled Kolb at local schools, they had experienced significant international interest.
"Due to growing numbers of downloads from China, we had to create a separate experience which is in Mandarin. Globally, we've just been recognised for our work with Kolb as the winners of the Unity Unite 2019 Sydney Non-Game Award," he said.