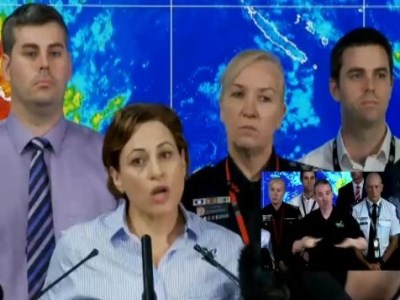 All south-east Queensland schools will be shut today as ex-Tropical Cyclone Debbie heads south, bringing severe thunderstorms, torrential rain and flash flooding.
A statement from the Queensland Education Department said all state schools in Metropolitan, North Coast and South East Regions will be closed as weather conditions worsen.
The cyclone made landfall at 1pm on Tuesday, with winds at its centre around 185km/h and gusts up to 260km/h.
According to the Department's school closures website, 763 state schools remain closed, as well as 286 Catholic and Independent schools. More than 250 early childhood education and care service centres remain closed.
Queensland's Deputy Premier, Jackie Trad, said the decision to close the schools was based on updated forecasts from the Bureau of Meteorology.
"We know that the heavy weather conditions currently being experienced in southeast Queensland will intensify throughout the day," Trad said in a statement.
Parents who had already taken their children to school were assured they would be looked after throughout the day and were urged to collect them before closing time if possible.

"If you have dropped off children, they will be cared for but please arrange to pick up your children earlier than the 3pm. School finish time. This includes independent schools and Catholic schools," Trad said.
"We don't want parents to be — parents or children, to be on the road in this sort of weather. And that's why we have taken the decision to close schools."
The Deputy Premier also issued a warning that public transport could be closed down throughout the day, which could further complicate school pick-ups.
However, she assured that the government would "care for everyone and make sure that nobody is left alone".

The Bureau of Meteorology has issued top priority warnings to inland and coastal communities for widespread heavy rainfall, gale-strength winds and riverine and flash flooding.

People are urged to tune into their local ABC radio – the official emergency broadcaster – for weather and road updates.