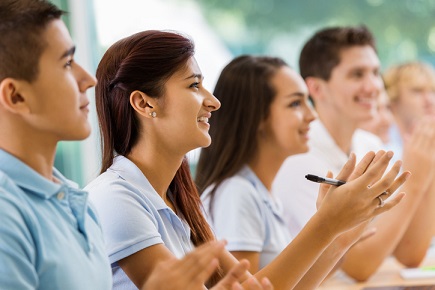 The 51st Higher School Certificate has now officially ended with the class of 2018 receiving their HSC scores from 6am this morning.
In a remarkable result, 1,254 students received the coveted 'All Round Achievers Award'.
Also making the HSC 2018 honour roll, an incredible 16,933 students received the highly prized 'Distinguished Achievers Award', which celebrates students who score in the top band in at least one course.
NSW Education Minister, Rob Stokes, praised the 75,700 students who completed at least one HSC course, however he reserved a special message for the 68,000 students across NSW awarded their Higher School Certificate this year.
"Obtaining your HSC is an incredible milestone, however your school years were just the first slice of life, now it's up to you to enjoy the rest of the cake," Stokes said.
With 56,142 HSC recipients also eligible for an ATAR, the Minister reminded 2018 graduates not to panic if their result did not meet their expectations.
"If you don't get the result you were hoping for, remember there are so many paths to success and your HSC doesn't define you. You have countless options. There are multiple avenues to seek support from your friends, family and community," he said.
In an encouraging sign, 83% of students completed a Maths course and 51% did a Science subject.
Top schools revealed
James Ruse Agricultural High School took out the top spot for 2018, followed by North Sydney Boys' High School in second place and Sydney Grammar School in third place.
Sydney Girls High School, Baulkham Hills High School and North Sydney Girls High School also scored in the top ten, taking out fourth, fifth and sixth place respectively, while Hornsby Girls' High School, Reddam House and Northern Beaches Secondary College Manly Campus occupied the last three spots in the top ten.
Students who topped this year's Higher School Certificate were honoured in a special First in Course awards ceremony hosted by the NSW Government.
Yesterday, Stokes awarded academic prizes to 127 students from across the State who came first or equal first in one or more of this year's 118 HSC courses.
"I congratulate not just these winners, but all of this year's HSC recipients for their dedication, perseverance and hard work," Stokes said.
Testament to a 'world-class education system'
This year, an equal number of government and non-government schools – 46 of each – were recognised in the 2018 HSC's First in Course awards. Stokes said this was a testament to NSW's "world-class education system".
"I am proud to see the HSC successes across NSW schools, thanks to the hard work of teachers and families in supporting and nurturing our talented students," Stokes said.
Other schools that saw multiple First in Course awards received included Elderslie High School, Burwood Girls High School, Sydney Grammar School, Pymble Ladies' College and Chatswood High School.
"Recipients from these schools come from a diverse range of backgrounds. What unites them is their talent, intelligence and excellent school support networks," Stokes said.
"Don't despair if you do not achieve the result you were hoping for - remember there are so many paths to success and your HSC doesn't define you."