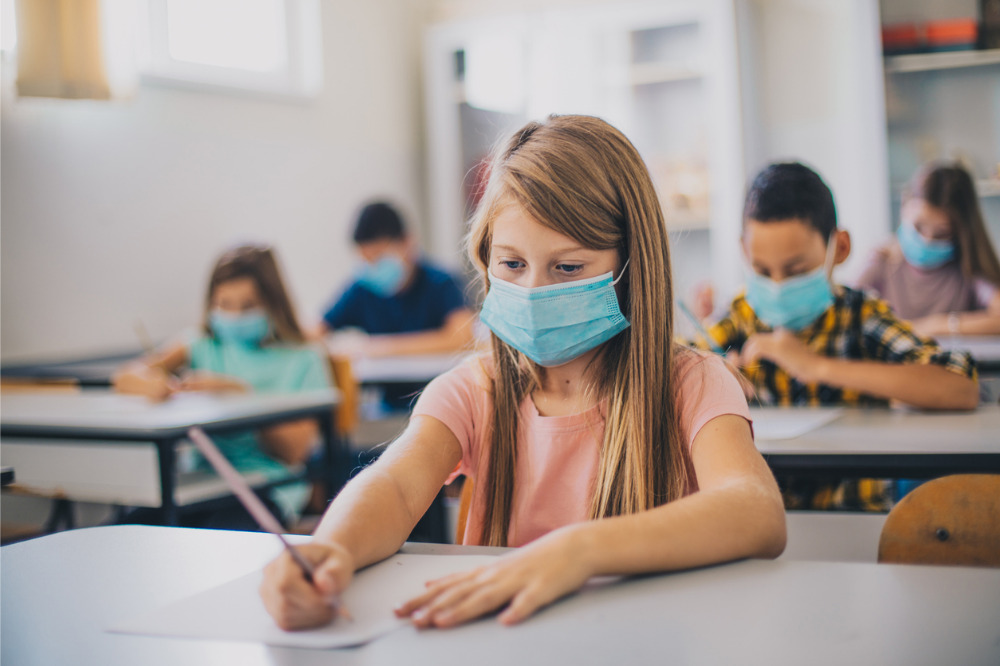 NSW students and high school staff will no longer be required to wear masks from next week after the state's government announced that COVID Smart settings would be revised to allow life to return to normal.
Mask mandates will remain in place for primary school student and staff, including early childcare centres, until March 7. Under current settings, children in K-6 are encouraged, but not required, to wear masks.
In a statement today, the NSW Department of Education said that from Monday, February 28, cohorting requirements and activity restrictions will be relaxed, enabling students to engage and interact more freely across classes and year groups.
Schools will be able to welcome more visitors onto school grounds, including parents, and will resume activities such as assemblies and school camps.
"It is time to afford our students and parents more normality. Everyone wants to get back to the school activities and events we all love," Premier Dominic Perrottet said.
"The return to school and the start of term has been a success, COVID transmission has reduced throughout the community, and while there will still be cases and bumps in schools it is time for our students to enjoy normal school life."
NSW Education Minister, Sarah Mitchell, said it will be the first time since the pandemic started two years ago that students will enjoy this level of normality.
"We know transmission in schools is extremely low, and not a single school has closed since school returned despite the levels of community transmission," Mitchell said.
"Relaxing cohorting and restrictions on visitors will let more parents engage with their child's school and allow students to participate in cross-year group activities, which is welcome news for both students and parents everywhere."
However, some prominent voices in the state's education system believe it may be too soon to lift restrictions.
"We are still living in the middle of a pandemic – there were 8,500 cases in our community today – so we have a long way to go before we can say we are out of this," NSW Teachers Federation president, Angelo Gavrielatos, told The Educator.
"It, therefore, would have made sense to keep some of the restrictions in place and adopt a gradual approach to lifting restrictions in schools."
Gavrielatos said he is perplexed as to why the government is not taking a more gradual approach in lifting the restrictions in schools.
"It makes sense to keep the restrictions in place for a little bit longer and assess as required," he said.
"The risk mitigation strategies in place have been working. We have always said that in the context of a pandemic you can never overcompensate in the implementation of risk mitigation strategies because the safety of our students and staff must come first."
Gavrielatos said the rapid antigen tests have been working as intended by detecting and preventing staff and students who have been infected from going on site.
"The masks are also working in terms of stopping the spread of the infection. Why lift the restrictions in such a way? There is no rush in this. A cautious approach would have been far better."