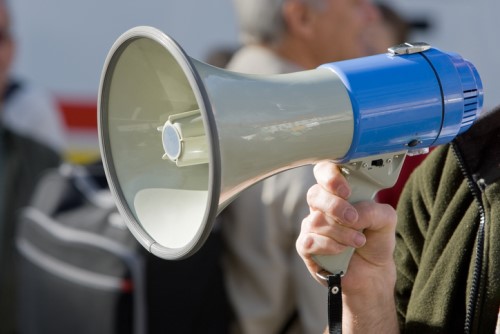 Dozens of angry parents have converged outside Somerville House school in South Brisbane, angry that its governing body has banned them from discussing a leaked report into the school's future.
The gag order was made yesterday by the Presbyterian and Methodist Schools Association (PMSA) – the body that also oversees the management of Brisbane Boys College, Clayfield College and Sunshine Coast Grammar.
The march outside the exclusive school, which began at 7am this morning, is believed to involve up to 100 people, including several former students.
Somerville House has recently been hit by a number of allegations involving information leaks and staff departures, issues that the PMSA sought to address in a statement late yesterday.
PMSA chairman, Greg Adsett, called the saga "deeply regrettable", saying he wished to "set the record straight".
The most recent of the allegations was that Flo Kearney, the former principal of Somerville House, had been dismissed.
The claims stemmed from an announcement by the PMSA that instead of serving out the remainder of her term, Kearney would be replaced by one of the school's former heads – a move that led to Kearney's immediate departure from the school.
However, Adsett denied that Kearney had been dismissed.
"Ms Kearney has not been dismissed, nor has the PMSA had any reason to criticise her in relation to communications with any media outlet," Adsett stated.
Among other issues addressed was a leaked Deloitte report, commissioned by the PMSA in 2015, which sparked fears of a secret plan to merge the four schools – a claim that Adsett, called "wrong".
"The Deloitte report was a step in an ongoing process, which will continue with the support of the Presbyterian and Uniting Churches and will also involve consultation with all stakeholders at the appropriate time," he said.
"Reports that the PMSA intends to 'strip the … individual character' of the schools are wrong. Furthermore, no plans exist to centralise the operations of our schools."
Adsett also addressed reports that Somerville House senior executive, Rick Hiley, caused a security breach by downloading and misusing confidential data.
Hiley, who was stood down from his position ahead of an independent investigation into the alleged IT breach, was later cleared of any wrongdoing.
Adsett said the subsequent report outlining the facts of the matter found that data had simply been downloaded onto a portable hard drive to enable Hiley to work efficiently from home.
"The data was only used for its intended purpose and no breach of IT policy occurred. There have been no instances of data theft or data misuse," Adsett said.
Related Stories:
Principal of prestigious school stood down
Private school principal responds to teacher scandal