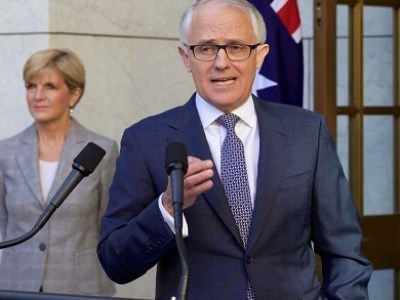 "This is our chance to stand together".
That's the impassioned call of Prime Minister Malcolm Turnbull to principals as he took the unprecedented step of writing to school leaders across the country, encouraging them to sign up and take a stand against bullying and violence.
In the letter, Turnbull urged principals to sign up to the National Day of Action against Bullying and Violence (NDA), on March 16. More than 2,300 schools have already signed on to the NDA with more than one million students committed to taking a stand.
The NDA is Australia's key anti-bullying event for schools. In 2018, schools are called to imagine a world free from bullying and share their big ideas within their own school community.
"We believe all students have the right to be safe at school. Bullying and violence have no place in Australia," Turnbull wrote.
"This is our chance to stand together. Together we can reduce the incidence of bullying, whether inside the school gate or online, and eliminate it wherever we can."
The Federal Government will also announce that it will provide an extra $1.37m over the next three years to support the NDA and other student wellbeing initiatives such as the Bullying. No Way! Website.
Speaking on Channel 9 this morning, Federal Education Minister, Simon Birmingham, said that as a father of two young daughters, stories about the tragic consequences of bullying on children "absolutely horrify" him.
"We want to make sure that schools are better equipped in terms of their capabilities to deal with these issues," Birmingham said.
"The NDA provides a point at which to encourage people to really focus in on how they use those resources and how they use those legal powers that we've put in place to combat bullying, whether it's old-fashioned schoolyard bullying or, of course, the modern instances of cyberbullying."
Related stories
Schools have 'duty of care' to track students online
How should schools deal with anonymous bullies?