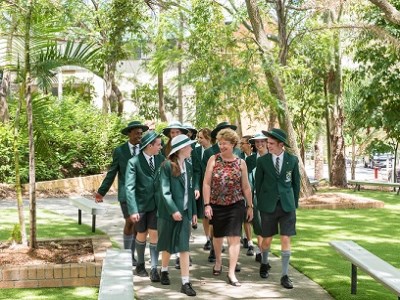 Corrine McMillan's job entails being much more than the principal of Brisbane's Cavendish Road State High School. She is also an award-winning role model for her community.
And if all goes according to her plan, she may be its MP next year.
In a letter to parents, she announced that she would contest the electorate of Mansfield for Labor at the next election, writing that "good education can and does change the lives of individuals, families and communities".
"The Palaszczuk Government understands and promotes that. It's vital we get the right education policies in place to ensure Queensland's future success."
McMillan is a respected figure in her community. In 2013, McMillan was named one of Queensland's Most Inspiring Women. She is also a 2013 Queensland College of Teachers Excellence in Leadership Award winner and a recipient of the 2014 Australian Council of Educational Leadership Fellowship Award.
Under her leadership, Cavendish Road State High School has seen a significant increase in student academic performance, including the progressive improvement in its Year 7 and Year 9 NAPLAN results and the performance of Indigenous students.
The school was also one of the first in Australia to offer Philosophy from Year 7 with a clearly defined pathway to University. McMillan said after 22 years working in education, she hopes to provide support and guidance to school leaders, teachers and parents.
"As all of those who work in education understand, education is political, education is forever changing; education is responsive to the needs of our country, to our society and to the expectations and needs of communities, families and individuals," she told The Educator.
"One of the wonderful aspects of our democracy is that people like me can nominate to provide leadership for the future of our great State and can contribute to being part of the solution to many social issues by running for a seat in Parliament."
McMillan said her move to run for the seat of Mansfield has been a significant life decision, and that the schools, parents, families and businesses she has worked with served as her inspiration.
"The opportunities I have had to work with other strong community leaders and witness firsthand the impact of their work in supporting all people, families and communities which will ensure that we will leave this world a better place than how we found it," she said.
McMillan pointed to a number of significant changes facing the school system in the coming years, including the new Tertiary Entrance System (TES).

If elected, McMillan said she will ensure the education system delivers for young people well into the future, focus on reducing domestic violence and be "the community's voice" in Parliament.
"Further, there are broader community issues which inevitably impact on families and the education of young people including domestic and family violence," she said.
"Issues like this require a whole of government and community response. Together we can make a difference."