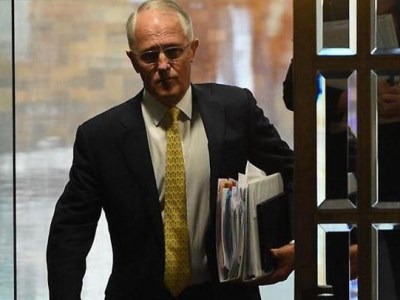 The debate over public-private school funding has heated up following the Prime Minister's proposal that the States and Territories take full responsibility for school funding.
The furore follows Prime Minister,
Malcolm Turnbull
's confirmation on Wednesday of a radical proposal which would allow States and Territories to levy income taxes, a move he said would allow funds to be spent "more wisely".
However, it was a comment made to
Radio National
regarding school funding that has drawn the ire of the
Australian Education Union
(AEU) and Federal Labor.
The PM said one option being discussed was for State Governments to take full responsibility for funding public schools, while the Federal Government took responsibility for private schools.
The AEU and Labor leader Bill Shorten are now accusing the Federal Government of effectively taking the axe to public school funding while maintaining funding for private schools.
AEU deputy federal president,
Maurie Mulheron
, told
The Educator
that the Federal Government was taking the axe to public schools by "completely and utterly walking away" from funding of government schools.
"The Prime Minister has just announced to every parent in Australia: 'if you send your child to a public school, we won't give you a single dollar'. He's saying 'we'll continue to tax you, but your school will not get a dollar from us'," Mulheron said.
Mulheron said Australia was already regarded by the OECD as one of the most inequitable school systems in the developed world and that should the proposal go ahead, Australia would become a country with "deep entrenched inequalities that will affect generations to come".
He added that even the Government's own Reform of the Federation green paper said that the plan would lead to different funding models and disparities between government and non-government schools.
Labor leader Bill Shorten, along with Shadow Treasurer Chris Bowen and Shadow Minister for Education, Kate Ellis have also warned that the proposal will widen the equity gap between private and public schools.
"Malcolm Turnbull has today said that he will abandon school education in this country," Shorten said yesterday.
However, Federal Education Minister,
Simon Birmingham
, hit back, saying the move was about preventing the education system from "being strangled by multiple levels of government bureaucracy".
Birmingham said Labor's implementation of the Gonski model had led to 27 different funding arrangements with government and non-government sectors.
He added this had resulted in different payment levels "depending on the deal they could get out of Bill Shorten on the eve of the 2013 election".
"The Turnbull Government wants to deliver clarity, accountability and the incentive for our school systems to innovate and be their absolute best rather than being strangled by multiple levels of government bureaucracy," he said in a statement.
The Minister also responded to claims made by Shadow Treasurer, Chris Bowen, who said the PM's tax plan would hurt public schools.
Bowen claimed that the plan would particularly jeopardise school funding, which he said was a "core responsibility of the Federal Government".
However Birmingham said the Commonwealth provides just 13% of the average per-student funding in a government school.
"School funding is a core function of the states and territories who provide 87% of funding. Labor love a system where accountability is blurred and the buck can always be passed from one level of government to another," he said.