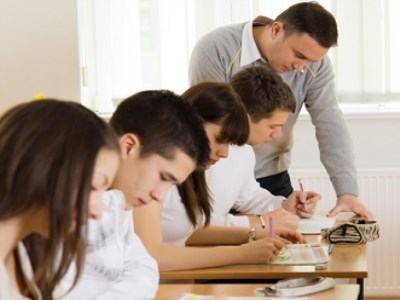 All new teachers will now need to pass a performance assessment before they can graduate under a game-changing new project aimed at boosting teacher quality.
The Graduate Teacher Performance Assessment (GTPA) project – referred to as "an authentic, research-led teacher performance assessment" – creates an evidence-based benchmark to measure current teaching standards against.
Teacher educator experts from 13 prominent universities from across Australia – who will oversee the governance of the Graduate Teacher Performance Assessment (GTPA) project – will meet this week to agree on the nationwide benchmark.
In a statement today, Federal Education Minister, Simon Birmingham, said the assessments, which will apply to student teachers graduating in 2018, will ensure teachers are 'classroom ready'.
"To get the best outcomes for students we need the best quality teachers in classrooms," Birmingham said.
"Graduate teachers deserve to know that they have the skills to succeed in the classroom just as students, parents and principals deserve to know that new teachers have been given the best possible skills."
To develop the standards, the Federal Government has been working with the Australian Institute for Teaching and School Leadership (AITSL), which provides resources for schools to enhance professional development and leadership.
Professor Claire Wyatt-Smith, director of Learning Sciences Institute Australia at Australian Catholic University (ACU) is leading one of two teaching performance assessment projects.
Wyatt-Smith said the research will assess entry-level teachers' "overall capacity to plan, teach, assess and reflect on their practice".
"The research will also provide them the opportunity to demonstrate their impact on student learning," she said.
Chris Presland, NSW Secondary Principals Council (NSWSPC) president, welcomed the new changes, saying they would improve confidence in schools and principals, as well as build on the "great work" already being done by universities to boost teacher quality.
"The quality of new teachers coming out of university is "light years ahead of what it used to be," Presland told The Educator.
"When you look at the quality of what universities are doing combined with government strategies to support early career teachers, it's clear that both these factors will have a major impact on Australian education down the track."

Lisa Rodgers, CEO AITSL, told The Educator that the implementation of the new teaching performance assessment will mean "every single new teacher can be confident that they meet the graduate professional teacher standards and that the level of performance needed to graduate from teacher education is the same from Dubbo to Darwin."

"Australian universities produce many outstanding graduates, but we need to be confident that all new teachers are classroom ready and well-equipped to have a positive impact on student learning," Rodgers said.

"Through the strengthened accreditation process, all universities must demonstrate that all of their pre-service teachers have been rigorously assessed and meet the Graduate career stage of the Australian Professional Standards for Teachers before they graduate."

Rodgers said this is not a national test or assessment, but rather, a national requirement.

"Each provider can determine what their assessment looks like, as long as it meets the requirements set out in the ITE Standards and Procedures. I have no doubt that many of the elements of the assessments that will be undertaken from 2018 are already in place today, but, through adherence to the Standards, it will ensure increased rigour and national consistency," she said.

To support the development and implementation of these assessments, AITSL funded a grant program to support a consortia of initial teacher education providers to work together to design, develop, trial and validate rigorous assessments of teaching performance – the grants were awarded to two consortia, the Learning Sciences Institute Australia, Australian Catholic University led consortium and the Melbourne Graduate School of Education, the University of Melbourne led consortium.