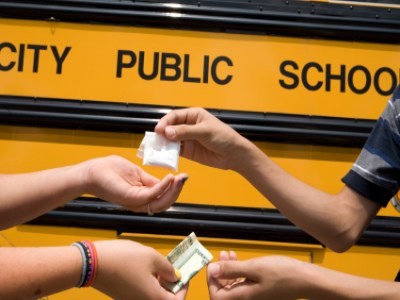 Darwin's schools have suspended 77 students for drugs-related issues so far since the start of 2015 compared to 78 in the whole of 2014.
NT News reports that the total for this year could hit triple-figures as principals fight the battle against drug use among ever-younger students.
The
Department of Education
won't say which schools have the biggest problem with drugs and says that the increased number of suspensions does not mean that the drug and discipline policies in schools have failed.
Ken Davies told
NT News
that there is increased drug use in the community and that the problem is not quickly fixed. However he said that drug education is continuing to be a focus for the department.
Cannabis and alcohol use are highlighted as among the drug abuse that is most impactful and Mr Davies said that students caught with drugs have access to counselling. This is one area that the
Australian Education Union
says could be weakened by budget cuts.
The Northern Territories education minister Peter Chandler has said that drugs use in schools is a concern for him as a minister and as a parent and will remain a key focus with stakeholders including schools, health and police being involved in the education process.