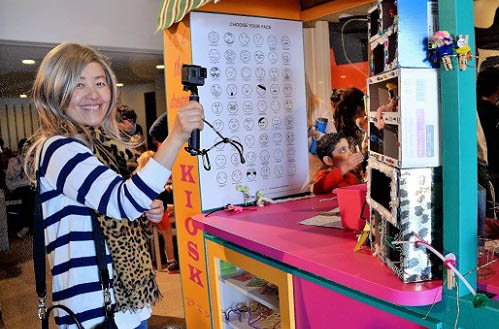 For the last two years, Lansvale Public School, located in Canley Vale, NSW, has had a powerful ally in its quest to unlock its students' creative potential: the Sydney Opera House.
The school has been exploring creativity as a way of teaching and learning, using the Opera House and students' performances as the starting point.
Five months ago, principal Mark Diamond, turned to Howard Mathew, a prominent Teaching Artist, to work with parents with the aim of inspiring and empowering students through the power of storytelling, communicated with imagery and practical experience.
Today, the school's hard work is being showcased by the Creative Leadership in Learning Team at the Sydney Opera House with the launch of the Creative Play Project 2019.
Nourishing the entire community
"This project has grown from the tiniest little seed, into a blossoming, fragrant vine that continues to nourish our entire school learning community," Diamond, said.
"The way Howard Mathew mentored and built the students' and parents' capacity in unleashing their innate creativity was simply inspiring."
However, while giving Matthew due credit, Diamond also took pride in the fact that his school was the producer and director of a "fabulously successful creativity experience".
"The participants had as their vision allowing words from powerful narratives to leap off the page and become an adventure," he said.
"In achieving this intention they have provided students from all around NSW an opportunity to dream. Students and parents for Lansvale Public School understand the importance of audience and purpose in creating works of fine art."
In the school's new interactive installation, called the 'Dream Makers Kiosk', Mathew responded to a performance called Bambert's Book of Lost stories by Barking Gekko, working with parents for a term before inviting in students to continue the making process.
"The school wanted the parents to understand more fully some of the more innovative ways they are teaching by putting them through a creative learning process similar those taking place in Lansvale classrooms," Frank Newman, the Creative Learning Specialist for the Sydney Opera House, said.
'A story behind every creation'
Angela Lam, a 5/6N student at the school, said creativity has allowed her to "be clever in her own way".
"I tried things I haven't done before like making puppets out of pegs, stickers, wire and wool. Everyone in my class had a story behind what we created. I love this kind of learning," she said.
Parent, Vyja Menghi, said she benefitted from the school's initiative by having the opportunity to be more involved with the school and its teachers.
"It makes me realise how much is involved and I am grateful for all their time and efforts. It's a great way to make new friends which makes it a lot of fun when working together," she said.
Year 5/6N class teacher, Julie Nghe selected puppetry as the means to convey her students' learning about storytelling and creativity.
The children designed, critiqued and created several prototypes of an Asian "Street Food Style" Trolley as the vehicle for catalysing powerful puppet characters as imagined by their target audience (children visiting the Opera House).
The trolley provided a 'magical treasure trove' to be wheeled around the House in order to engage visitors in workshop to design and creation of their individual puppets.
"I will never forget the moment I saw their eyes glistened and how proud of they were when they finally saw their creation at the Opera House and again at school. What a learning experience it has been for all of us," Nghe said.