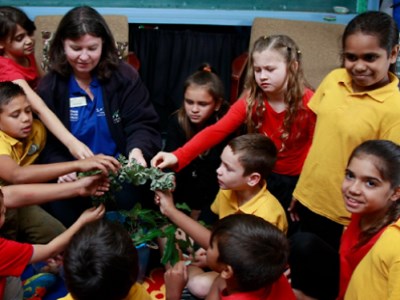 In celebration of NAIDOC Week 2017, a school supplier and an Indigenous education foundation have launched a project to enhance awareness and education about Indigenous heritage in Australia's schools.
OfficeMax developed the range in collaboration with The Teter Mek Foundation, an organisation that champions programs for school children of all backgrounds in Australia to learn about and connect with their local Aboriginal and Torres Strait Island community through stories and language within learning materials.
The vision of Teter Mek is to connect all school children with their local Aboriginal or Torres Strait Island community through stories and language.
Jasmin Herro, founder of The Teter Mek Foundation, told The Educator that this phase of the partnership with OfficeMax is important to schools and communities on many levels.
"Whilst there is a keen interest by teachers, parents and principals to engage with Indigenous culture, our relationship helps those who are about to start the journey by providing a safe and inclusive environment to start the conversation," she said.
"The fear of making unintentional mistakes that could potentially cause offense in a highly emotional and politically-charged space is what prevents many Non-Indigenous people from engaging."
Herro said principals have a major role to play in facilitating these conversations, not just in their own schools but in the wider community as well.
"This allows innovative leadership, teaching and respect of Indigenous culture to move from an add-on content piece [Indigenous specific content] to implementing the content at the core of the subjects, policies and protocols," she said.
"It also means building on from the acknowledgement of country at assemblies, meetings and events to understanding why we acknowledge and how that can build relationships with children and families from all cultural backgrounds."
Herro said that from the beginning of the Foundation's partnership with OfficeMax, it has sought to celebrate the work of schools around the country that have led the way in teaching and engaging Indigenous education and culture.
However, she pointed out that many of these efforts are largely due to "the passionate work of a few dedicated educators, parents and community members".
"The challenge is that once that teacher or principal moves to a new role elsewhere, many of these projects are difficult to maintain without those key drivers," she said.
"The Teter Mek project hopes to connect with Indigenous communities and storytellers on a local level and collaborate to grow the resources that could help us conserve these valuable stories."
'Embedding purpose into purchase'
OfficeMax's director of sales and marketing, Paul Munkley, told The Educator that the using the Teter Mek products will help principals see an appreciation beyond the lesson for "a far bigger opportunity and objective that people can rally around".
"We're not asking schools to invest in something that is new – we're saying that if schools buy these products anyway, why not choose a product with purpose?" he said.
"It can be difficult for a principal to find something to toot their horn over, but the power to stand up in front of a school and say the reason we're doing this is because it has a huge potential to drive further community engagement can drive greater respect for the school, and the principal."
Munkley said that from "a purpose perspective" there is always a consideration of making teachers, students and the school feel good about what you're doing.
"It can be a community amplifier, too. A small business might hear about what the school is doing and decide to get on board and help. We're already seeing this to some extent, with organisations wanting to contribute to this great cause," he said.
"We want to make it easier for all schools to fulfil their Indigenous policy requirements by putting something in front of them that aligns with their commitments to corporate social responsibility."