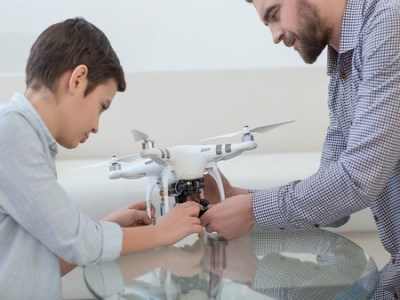 With Science, Technology, Engineering and Mathematics (STEM) education taking centre stage in the Federal Government's science and innovation agenda, Leigh Killian is acutely aware of its value to senior students.
Killian, who spent eight years as her school's community and industry liaison, is largely responsible for the school's
new drone piloting course
, which is already providing exciting career inroads for its students.
Callaghan College, a multi-campus government school located in Newcastle NSW, has been at the forefront of STEM innovation for years, and it is with this in mind that Killian decided to take this to the next level by making the right connections in the right places.
Killian is saying goodbye to the school next week to take up a new position as the business development manager of Australian drone company, UAV Air – the company that is now training the school's senior students how to operate and fly drones.
Killian told
The Educator
about the ways in which the course will provide students with new career pathways and plug what has been a largely unnoticed skills gap in an increasingly important industry.
"Students love the fact that they're working with drones, which are a part of an emerging industry. More importantly, there is a skills shortage in this area without it actually being listed as a skills shortage," she explained.
Commercial drone pilot applications currently exist in aerial photography, fire-fighting, emergency and other surveillance, real estate, mining and engineering, construction, and agriculture – however, the potential for drone pilots could expand into many other fields, including the
service industry
.
However, Killian said that Callaghan College is the first school in Australia – and possibly the world – to offer a certified drone piloting course to students.
"Most students are used to working with hand-held controllers commonly used in video games, so many of them already possess the skills that are involved in the course," she said.
"This means they tend to pick up the skills very quickly. The difference of course is that these are vocational education skills.
"Our students will be able to leave school with their HSC and go off into any field, get a qualification and end up with a dual qualification of being a specialist who has the technical know-how to fly the drones those industries use."
Other schools are sitting up and taking notice
Killian said that since the program took off at Callaghan, other schools – such as Camden Haven High School in NSW, as well as some schools in Queensland – have expressed interest in rolling out similar courses for their students.
"Students are interested in a range of opportunities that such courses offer, particularly the camera work and filming involved," she said.
"At Callaghan, we have students who are interested in media and cinematography, so they want to expand from this course and go into this area in the context of filming using drones."
The Certificate III qualification allows students to fly drones heavier than 2kg, which requires a Civil Aviation Safety Authority (CASA) licence.
"Our students have the CASA licence, which any other drone pilot must go through – and this includes an aeronautical radio operators course, so they're really being skilled in a range of different areas," she said.
Course providing a crucial skilling cycle
Killian pointed out that once students receive this qualification, it allows them to come back and train other students, creating a skilling cycle that could have significant benefits for youth employment in the STEM industry.
"A student who finished his HSC a couple of years ago is now working in the drone industry and gets flown to mining sites to provide reports about coal levels, which were gleaned from aerial footage and photographs taken by drones," she said.
"Technology is obviously taking over in many fields, and this is yet another example of that.
"The use of drones is not only fascinating and engaging for students, but is giving them new inroads into a skill that is becoming increasingly important across many of our industries."