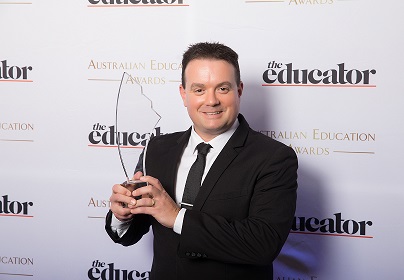 On August 17, Tamborine Mountain State School (TMSS) was recognised on the national stage at the inaugural Australian Education Awards.
The event brought together nearly 500 principals, department heads and teachers under the one roof at Dockside, Sydney, where 242 nominees contended for awards across 24 categories.
One of the categories was Primary School of the Year – Government, which was awarded to principal Jason Smith on behalf of TMSS. Smith attributed the school's win to the dedication of its hard-working staff, conscientious students and close-knit community.
"We really treasure our arts and STEM programs at our school," Smith told The Educator at the event.
"Our school's teaching and learning environment is shaped by our student-centered approaches to learning to maximise what we know about how students learn."
Smith said teachers at the school embrace their students' past experiences, prior knowledge and understanding of key concepts "at the learning entry point", and emphasise that motivation and engagement as central to learning.
"We harness the full range of learning experiences at all times of the day, week and year by expanding and reshaping the role of the teacher," Smith explained.
"Teachers and students set clear expectations and goals around their teaching and learning and students are challenged to expand their minds by making real world connections and planning for the future."
Tailoring to all learning styles
TMSS offers both indoor and outdoor learning environments and flexible seating and standing options for students, which caters for all learning styles.
"At TMSS we determine student progression based upon the mastery of skills, not chronological age," Smith said.
"We have developed a comprehensive Guaranteed and Viable Curriculum, which aligns both vertically and horizontally with ACARA across P-6 in all subject areas and Year 5-9 in English, Maths and Science with our partner high school."
Looking at the year ahead, TMSS has developed a two year STEM Education Action Plan, which involves further enhancing the school's Media Centre to enable fast tracking of the Digital Technologies Curriculum; eLearning, Coding and Robotics.
"We are also looking to extend our partnerships with schools which have established media centres, and continue to expand our Science facilities and Sustainability infrastructure," Smith said.
Supercharging the STEM experience
Smith said the school will also be investing in technology resources to engage student engagement and maximise student learning, which includes conducting a feasibility study around establishing a BYOD program.
As part of the plan, the school will establish a STEM advisory team, which includes TMSS staff, a parent who owns a first-generation technology company and a representative from the school's partner, Griffith University.
"We aim to increase student STEM engagement and participation by providing more opportunities to engage in a variety of STEM experiences to build on curiosity for Science and Technology," he said.
"This will see the expansion of links with partnering schools and Griffith University [Academy School Partnership] and design strategies for inclusion of girls in STEM related subjects."