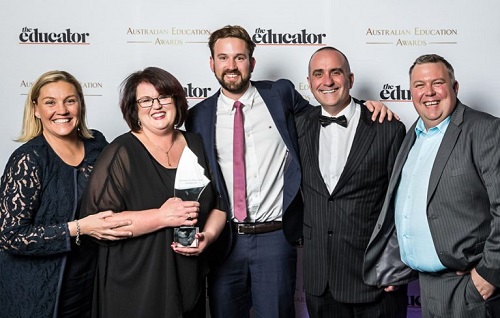 At Snowy Mountains Grammar School (SMGS), what happens outside the classroom is just as important as what goes on in it.
All students in Years 7-11 are required to participate in at least one activity per week and are free to choose in which activity they participate from the variety that the school, and external providers, offer.
The school's weekend activities include laser tag, paintball, rock climbing, Go-Karts and mountain biking, while externally provided activities include dragon boating, winter sports, karate, rugby and navy cadets.
On 17 August, SMGS was awarded the title of Boarding School of the Year at the inaugural Australian Education Awards in Dockside, Sydney.
The awards were open to any school in the Australian K-12 education sector and aimed to recognise the achievements of schools and individuals across the country.
SMGS was a finalist in three categories: Innovation in Curriculum Design, Best Co-Curricular Program, and Boarding School of the Year. The school won the Boarding School of the Year award, against a very strong group of finalists that included Ascham School, Toorak College and The Scots College.
"Our school offers so much, and in our rural region, our programs are extensive, allowing our students to be out there amongst nature, enjoying our unique environment," SMGS' head of boarding, Julie Wright, told The Educator.
"How wonderful that we have the opportunity to show what the boarding team and extended staff, both teaching and administration, contribute to make boarding such a special experience for our boarding students."
The award also recognised the supportive and encouraging environment in which SMGS boarders live.
There are currently almost 60 students in Years 7 – 12 who take advantage of the school's boarding experience. Students taking part in the Elite Snow sports Academy during Term 3 are also welcome to board.
Each student is individually supported throughout their studies, and encouraged to take part in the various activities available within the pristine Snowy Mountains region.
Cora McCloskey is the Boarding Captain for 2018. In this role, Cora is the student ambassador for the boarding students within the school, and believes that the award recognises all of the best parts of boarding at SMGS.
"SMGS's boarding house is a cheerful community that presents many opportunities for students such as snowsports in winter and mountain biking riding in summer," McCloskey said.
"Our close-knit community creates strong friendships and lifelong relationships".
The importance of the boarding community to SMGS was also highlighted by the school's principal, Andrew Bell.
"I am delighted for all involved, and that our school more broadly plays a role in educating young people in a modern world where there is no shortage of challenges," Bell said.
"[The award] validates the work educators and carers do in wider society and I commend all boarding schools around the country for the important role they play in developing our future."