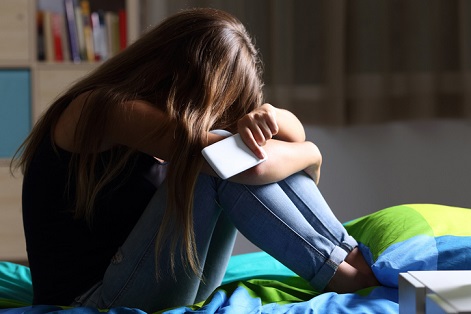 Last week's 2018 Federal Budget included nearly $250m over four years to extend the national schools chaplaincy program on a permanent basis with a strong focus on anti-bullying measures.
The announcement comes amid figures that show one-in-four Australians in Years 4-9 report being bullied every few weeks or more.
One statistic that is particularly worrying schools and parents is that students who are bullied are more likely to show symptoms of depression or anxiety disorders, to have self-harmed or attempted suicide
Across Australia, a range of programs and initiatives are in place to help tackle this problem – and on Friday, one of them received the full support of the NSW Governor, David Hurley, who joined forces with Interrelate – a not-for-profit provider of relationship services that specialises in supporting parents and children.
On Friday, the organisation announced the 33 national finalists of the 'Say No To Bullying' poster competition. The competition has attracted 45,000 primary school aged children, including 6,500 who sent their poster in to be judged and vie for a prize, to register this year.
Patricia Occelli, CEO of Interrelate, said the competition is an opportunity for schools to have "a soft landing for a conversation" about bullying with their students.
"We prepare resource material that teachers can use to have a conversation of what bullying is and how to identify it," Occelli told The Educator.
"This year's topic was about teaching children how to believe in themselves, stand up to bullying and change the situation."
Occelli said the poster competition is an opportunity for schools to raise the topic of bullying in a non-threatening way for children and address it on a whole-of-school level.
"There has to be many and varied conversations that can be had at school and home, and this is what we want: for schools and parents to be aware of what's happening with their children, and to bring about change," she said.
Occelli added that Interrelate provides teachers from Kindergarten to Year 6 with a range of webinars, cybersafety resources and workbooks, based on child perceptions to bullying.
"We also support parents, because when it happens to your child, whether they are the bully or being bullied, it's important for them to have resources that help them understand how to seek help for their child," she said.
NSW Governor, David Hurley – who is an Interrelate Patron – said the competition aims to raise awareness and create discussion surrounding the issues of bullying and child safety in Australia's communities.
"We all want to live in – and our children to live in – an environment that is safe and free from bullying. We all want our communities to be safer, kinder and friendlier," Governor Hurley told The Educator.
"This competition empowers children to 'Say No To Bullying' and acknowledges their right to believe in their own individuality and identity, without the fear of being bullied."
Governor Hurley added that the competition also provides a channel for parents and teachers to discuss and address issues of bullying behaviour "that may have otherwise gone unnoticed in the classroom or playground or outside of school life".
Related stories:
PM makes impassioned call to principals
How should schools deal with anonymous bullies?