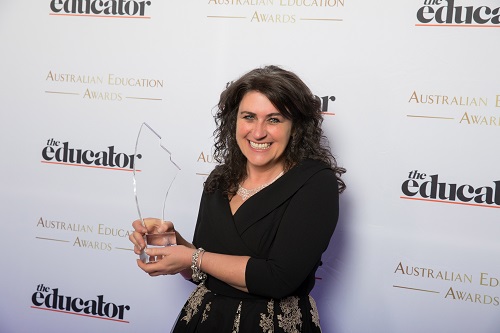 It's been a special year for Tasmanian teacher, Jane Doyle.
At the inaugural Australian Education Awards on 17 August, Doyle, who is the K-2 Teaching and Learning Coordinator and Literacy Support teacher at Dominic College, received the Pearson Award for Teacher of the Year.
Doyle has been responsible for some big developments at Dominic including, the establishment of the school's K-6 Japanese Language program, Mamma Margaret's Kitchen Program, the Parent-Teacher Literacy and Numeracy program and Prep data analysis and response planning – just to name a few.
In taking up the new K-2 Literacy Support teacher role at the beginning of 2015, Jane was entrusted to identify targeted students based on data, develop appropriate programs and assess and monitor student progress.
Since commencing this role, Doyle – working alongside her teaching staff – has developed innovative resources and programs to measurably improve student outcomes and create pathways for future learning.
Doyle attributed her success at the Australian Education Awards to the staff who support her and the school's principal, Beth Gilligan, who she said has always seen her strengths and challenged her.
"I'm very pleased that an early childhood educator has been recognised, because we do an awesome job, and we're the foundation for learning," Doyle told The Educator.
"I'm being recognised for that as much as for who I am because I run a team of 10 educators who give their all to be the best they can be for their children, every day. This award is as much for them as it is for me."
Last month, Doyle's educational excellence was celebrated again, this time at the Australian Scholarships Group (ASG) National Excellence in Teaching Awards, where she became one of only three Tasmanian educators to receive the national recognition.
"Jane is recognized as a huge asset to Dominic College and has a reputation in our community as a quality teacher who knows how children learn and engages children in exciting learning processes," Gilligan said in a statement on the school's website.
"She has deeply influenced the way technology has positively supported student learning in K-2."
Gilligan added that Doyle has also been a "wonderful and generous mentor" to graduate teachers and Early Career teachers at the College.
"She is consistently named by our young teachers as one of the best influences and support they have had as a young teacher," she said.