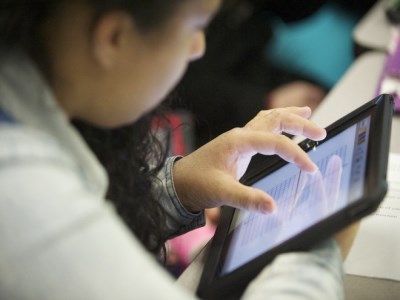 Teachers have found a type of homework assignment no student's dog could ever eat: a digital one.
A ground-breaking pilot program called 'Studywiz' may soon allow students and teachers to do class projects on - and save their homework to - their own digital file, or 'e-locker'.
Shepparton High School in central Victoria is pioneering the program as part of a global 'mobile learning' project. What's more, it's been shown to help student attitudes towards schooling.
Early research on the program has shown improvements in attendance and completion of homework. Students also used the devices more than laptops or desktop computers, indicating how classrooms might evolve over time.
Delphian eLearning education research consultant Cecilie Murray, who conducted a study of the program, said students prefer the devices because they are personalised and help prepare them better for classes.
"They want to come to school," said Murray.
"It has increased their completion of school work and they are better organised and prepared for classes."
Steve Fiehl, chief innovation officer at New York-based e-learning provider CrossKnowledge also sees the value - and growing relevance - that mobile learning trends are having.
"Two years ago, only 5% of our rollouts involved mobile devices," said Fiehl.
"That's moved up to about 25% today and will probably be at 50% within two years."
The Studywiz pilot program, which also gave the students the opportunity to network with a school in Singapore, has demonstrated the potential that mobile learning has, not just for international collaboration between schools, but for the overall future of education.
Anne Shaw, founder and director of 21
st
Century Schools, says that educating students in digital technologies is helping prepare students for the future.
"Today's kindergarteners will be retiring in the year 2067," wrote Shaw in her essay
What is 21st century education?
"We have no idea of what the world will look in five years, much less 60 years, yet we are charged with preparing our students for life in that world."