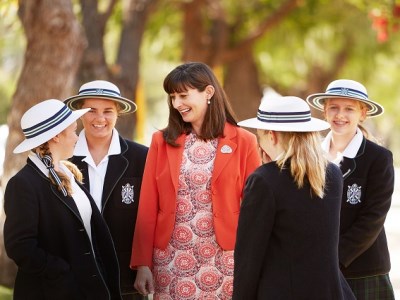 Dr Kate Hadwen, principal of Perth's Presbyterian Ladies' College (PLC), heads one of Western Australia's top performing schools. Its Western Australian Certificate of Education (WACE) results for 2016 saw the school ranked second in the state.
Pointing to some of the contributors towards her school's success, Hadwen said PLC's reputation as an inclusive 'open-entry' school without entry exams was one key differentiator that stands out in the broader school market.
"What I'm most proud of about PLC is that we're an open-entry school and we cater for the needs of every girl. That's what differentiates us in the marketplace – we genuinely do take on any student who comes through the door," she told The Educator.
"We have a culture of excellence, and our teaching staff work with every girl; each girl matters and programs are personalised for the needs of each girl, and that's hard to do."
Hadwen recalled a conversation she had with a mother of a student who was diagnosed with an auditory processing problem.
"Before this student started out at PLC in Year 7, she was told that the future would be challenging for her," Hadwen said.
However, this mother said what PLC did for her daughter from entry all the way through to exit was truly remarkable; the school genuinely believed in her, and gave her a sense of self-efficacy so she believed in herself.
This same student, Hadwen added, went on to receive a score of 97.25 in her WACE exam.
In line with the personalised learning element of the school's culture, it provides senior students the opportunity to opt between studying for the WACE or the International Baccalaureate (IB), something that Hadwen said promotes student choice and flexibility.
"I guess, even more than that, the way we develop our academic programs for our Year 12 girls is personalised," she said, adding that PLC also has combined classes with its brother school, Scotch College.
"So when we ask girls to choose subjects, we don't get them to do it on a gridline. We just ask them what subjects they want to study, and then we create individual timetables for every student."
Hadwen said that the collaboration between PLC and Scotch College benefits both schools as it allows students from both schools to explore learning opportunities that might not exist in their respective curriculums.
"It's not only the two pathway programs – it's the fact that if you want to do photography and we don't offer it here at PLC, or it doesn't sit with your gridline, then we go over to Scotch and see what fits over there, and the reverse applies for them."
And the flexibility doesn't stop there. Last year, the school began looking into introducing a 12-hour school day to cater to its busy working families, as well as its own students, who may one day be in their parents' shoes.
"What I'm trying to do is to create an environment whereby our girls can actually see that when they leave school, they can have both a family and a big career, but you're going to need some help to do that," she said.
"And I think that's where schools can do so much more. We can provide so much more assistance to our families, rather than expecting them to be here at drop-off time, here at pick-up time, here whenever something else is on."
Hadwen added that the concept of the 12-hour school day is among a "suite of ideas" that PLC is investigating to support families.
"Next year we will have this magnificent well-being centre. We're essentially a 24/7 centre anyway because we have a big boarding house, so why are we not utilising those facilities?"
The full version of this interview can be seen in the 3.1 issue of The Educator magazine, which will be released during the week of March 13-17.