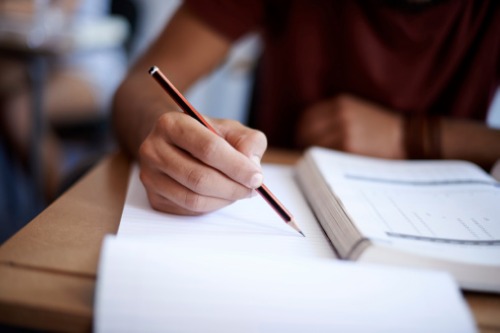 As the Year 12 exams loom, schools and parents are doing their best to make sure that senior students perform well, but not at the expense of their health.
This week, four experts shared their advice as to how to achieve this balance.
One of them is Professor Andrew Martin from the School of Education at the University of NSW (UNSW). Before major exams, Professor Martin says, the focus starts to shift to doing practice exams.
"As students mark or assess their answers, they will benefit from looking closely at "mistakes" and seeing these as windows of opportunity for improvement," he said.
"Even at this stage, it is not too late to learn a bit more, better understand some aspects of a subject, improve one's writing, and so on."
Professor Martin says that as revision is done, students should keep their mobile phone out of the study area and switch off social networking and gaming if working on a computer.
"Finally, get some decent sleep and do some physical activity during this period," he said.
According to Dr Rachael Jacobs, Western Sydney University, the key is avoiding the "disproportionate" stress that surrounds the end-of-year exams.
"Students often feel like their whole lives and futures ride on ATAR exams," Dr Jacobs said, adding that the news images of students in desks and chairs, isolated from each other, exacerbates community stress around high-stakes exams.
"No student should ever feel that their future is dependent on one set of exams. We have more university places than ever before. Employers are looking for more than good results."
To Dr Penny Van Bergen, a senior lecturer in Educational Psychology at Macquarie University, the best way to prepare for the Year 12 exams is for students to ask questions, test themselves, mix up their study sessions and avoid cramming.
"The evidence is in, cramming the night before an exam is not as effective as studying for the same duration over a longer period," Professor Van Bergen said.
"Whether you have 10 hours or 100 hours spare, the brain works most efficiently when sessions are spread out and there is time to consolidate all the new information."
Viviana Wuthrich, a clinical psychologist and associate professor of psychology at Macquarie University, advises students and parents to "keep the pressure to excel in perspective".
"We all want to do well, but the key is to not blow the consequences of the exam out of proportion," she said.
"Secondly, balance study with rest time, and look towards life after the exams."
Associate professor Wuthrich said about one in five students experience particularly high levels of stress, but the majority experience only moderate levels of stress.
"Exam stress appears to be lessened by strong family, peer and school connections, and an absence of negative thinking about the consequences of exams," she said.