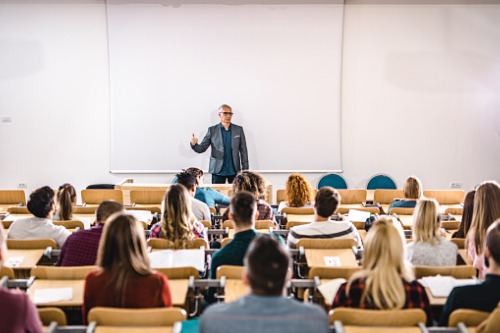 Earlier this week, a parliamentary inquiry called for school inspectors to monitor classroom teaching, as well as an independent commission to monitor test results, and extra public funding for independent schools who participate in a "best practice" school program.
The 100-page report, authored by One Nation MP Mark Latham, said the move would help address the decline in NSW students' outcomes over the past 20 years, adding the committee had identified a "striking lack of measurement, accountability and quality control in the government school system".
NSW high school principals slammed a report's recommendation to monitor teachers as "dangerous and ignorant", with NSW Secondary Principals' Council (NSWSPC) president, Craig Petersen questioning the purpose of inspections when schools "already have systems of supervision and monitoring".
"In addition to their own classroom assessments, teachers also have NAPLAN, HSC, Best Start, Student Wellbeing survey data, attendance data and a wide range of other sources from which they are expected to draw," Petersen told The Educator.
"We must wonder what additional benefit could be drawn from an increase in assessment".
However, David Roy, one of the key witnesses arguing for a school inspectorate, said the status-quo cannot remain.
"Our student outcomes are stagnating, and in some cases drifting backwards, and increasing the amount of school funding doesn't appear to be helping," Roy told The Educator.
"What concerns me is that that the negative responses to this report have more to do with people disliking Mark Latham and less to do with the merits of the report's recommendations. We should argue the ideas and not the individual".
Roy said the report's call for the collection and analysis of more data makes sense because it is for the purpose of cross checking how students are progressing and comparing students rather than schools.
"This means that SES and ethnicity data doesn't become the determining factor, because each individual student should be expected to progress despite their contextual background," he said.
"There is talk about tying school funding to outcomes. This is coming from Treasury more than from education, because Treasury will be tying all government funding to outcomes for that department, and this cannot be avoided".
Roy said education "cannot be a special case" and it is for this reason that the report is setting performance goals for schools.
"I don't see the issue with that. In every other sector around the world, we have this already," he said.
'More accountability needed'
Roy acknowledged that principals would be concerned about short-term contracts with set targets but said this is already being done by the independent school sector.
"Principals are hired with targets, and they have to meet these targets and be honest," he said.
"Instead of being paid six-figure salaries, there needs to be more accountability. Some principals are being paid more than CEOs. When they have multi-million-dollar budgets, responsibility for hundreds of people, there needs to be a high level of accountability".
Roy said that existing problems will only worsen without schools and educators being held accountable, adding that six committee members out of the seven agreed with the report, meaning that the recommendations are likely to be implemented.
"To celebrate success and keep good teachers in the classroom, we need a promotion structure," he said.
"So rather than shouting against them, we need to look at how this can be implemented well. Whatever is implemented, it has to support children and staff to improve achievement".