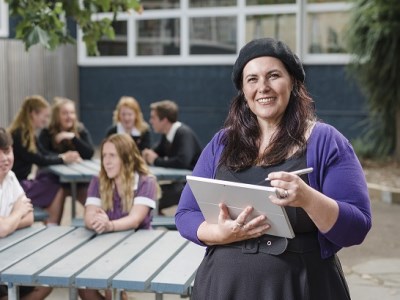 Four Australian teachers will soon be attending a global forum of innovative educators in Budapest, Hungary.
The teachers, from NSW, Queensland, Victoria and Western Australia, will join 300 others from 17 countries at the E
2
global educator exchange, a celebration of the teachers, who are all Microsoft Innovator Educator (MIE) experts.
The forum – which begins March 8 and runs for three days – is part of the Microsoft in Education initiative that offers a range of professional development programs to bridge the gap between technology skills and innovative teaching.
"The expert educators selected for 2016 are transforming learning as we know it, helping students to develop the skills they need in the workplace of tomorrow," said Travis Smith, Microsoft Australia's teacher engagement manager.
"The four teachers selected have shown innovative ways to create immersive and inclusive learning experiences that empower students, and they are truly committed to sharing these learnings with their peers."
The teachers attending the event told
The Educator
how they were improving digital teaching and learning in their schools.
Toby Trewin, education technology manager at Hale School in Western Australia explained how through ICT peer coaching he has been able to facilitate "integrated and sustainable digital teaching and learning".
"This professional development methodology has effectively brought meaningful education technology into the classroom from Year 1 to 12 at my school," he said.
"This just-in-time, continual and collaborative support for teachers has greatly assisted in numerous innovative initiatives used for the benefit of student learning."
Daren Mallet
, digital learning coordinator at
Hillcrest Christian College
in Queensland said teachers had his school trust him when he shares new technology with them.
"This trust starts with a short demonstration, then trailing the platforms themselves, and then sharing with their colleagues the excitement these platforms bring to the classroom and learning," he said.
"It was only today, that I had a teacher use the words 'this is awesome', when speaking of OneNote. A short 10 minute meeting with him showed him just how easy to use, intuitive and amazing this platform can be when used with the Surface."
Deanne Joosten, head of e-learning at Phoenix P-12 Community College in Victoria, has been working at finding ways in which to support staff to embed the use of technology into their curriculum.
"I do this through delivering whole school, specialised and individual PD, I regularly share new and exciting resources with my staff. I offer peer coaching to staff who would like some extra support," she said.
Lynette Barker, teacher librarian at St Therese's Primary School in New Lambton, NSW, told
The Educator
that there are a few specific areas of technology that her school is currently considering.
"Game based learning, game inspired learning and game design for learning are three concepts that are of great interest, especially with the love of Minecraft Edu that our students are demonstrating," Barker said.
"When bringing new technology into the classroom we must ensure that it adds value to learning and is well planned.
"I will be using my Budapest experience to explore how other countries have integrated games into learning in a successful and meaningful way."
Mallet, Joosten, Trewin and Barker said they hoped the upcoming event in Budapest would be a chance to collaborate and share ideas with innovative leaders in the education sector.
"My goals for the forum would be to make as many connections as is possible. Set up opportunities for classes from across the globe to work together on 21st century projects in ways that our generation could only dream of participating in," Mallet said.