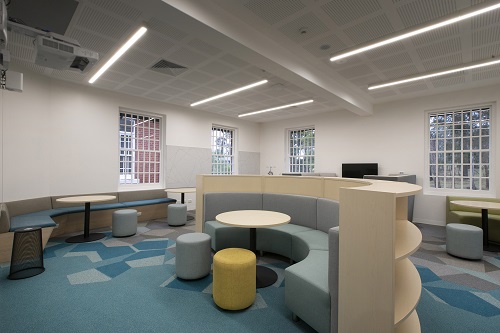 Tomorrow, Ivanhoe Grammar School will officially open its Australian-first University Campus on the outskirts of La Trobe University's Melbourne campus.
The ground-breaking campus will offer Year 9 students a year-long program designed to engage and inspire them during this critical learning period.
Research shows that when students reach middle adolescence – typically around Year 9 – their needs change. When these learning needs are not met, the risk of disengagement from their schooling becomes significantly more likely and re-engagement can take some years.
However, following discussion between Ivanhoe Grammar principal Gerald Foley and Professor John Dewar – the Vice-Chancellor and President of La Trobe University – a working party was established to develop a unique learning program to address this issue.
Former Premier and Ivanhoe Grammar School student, John Brumby AO, who becomes La Trobe University Chancellor next month, will officially open University Campus at 10.00 am on Thursday.
'An authentic university experience'
The new campus has open and flexible learning spaces, an R-Lounge for reading and reflection, an innovation hub and science and music rooms. Students can use La Trobe's media lab, radio studio, sport facilities, science laboratories and wildlife sanctuaries.
The authentic university experience with some of Australia's most inspiring thinkers and researchers builds upon the school's successful short-term program, which ran for 10 years.
A rich and varied curriculum incorporates university lectures exclusively designed for the students, plus a range of co-curricular activities. All this will expose them to the big cultural, social and scientific ideas that universities are known for.
Students will develop independent learning, problem solving, critical thinking, time management, decision-making and life skills. Co-curricular activities include music, debating, theatre, sport, community service and global citizenship projects.
'A higher level of learning'
The school's principal, Gerard Foley, said the University Campus program is evidence-based, academically strong and encourages innovation, entrepreneurism and inter-cultural understanding.
"This program is so engaging that it takes them to a higher level of learning without them realising," Foley said.
"I've worked in education for 30 years and never seen anything like this. It's the only program of its type in Australia, possibly the world. The students are enjoying their new environment and are energised by the possibilities, which are endless. It's very exciting."
As part of the innovative curriculum, students will create and start a business through entrepreneurial programs, and conduct in-depth studies on refugees, an international conflict and a passion project.
"This will enhance their learning, increase their cultural understanding, help them to become global citizens and prepare them for their VCE or IB studies and beyond," Foley added.
Encouraging resilience and independence
Head of University Campus, Stella Batsanis, said students have settled in well and already had access to some "wonderful learning opportunities" at facilities such as the La Trobe Wildlife Sanctuary.
"The students are enjoying real world experiences on a tertiary campus. This encourages them to appreciate the stimulating and enriching environment," she said.
"Year 9 is often seen as a year of unique adolescent challenges. I see it as one of unique opportunities to harness their growing curiosity and desire for autonomy. University Campus encourages resilience and independence, which our students crave."
La Trobe University Vice-Chancellor, Professor John Dewar, said the opening of the new campus reflects the University's commitment to supporting and inspiring local students.
"We are privileged to provide Ivanhoe Grammar School students the chance to use some of our facilities and to play a role in providing an early introduction to university learning at La Trobe," Dewar said.
"We hope to support and inspire local students in years to come."
Parents, students and the local community were consulted about the project, which has been backed by Darebin City Council.