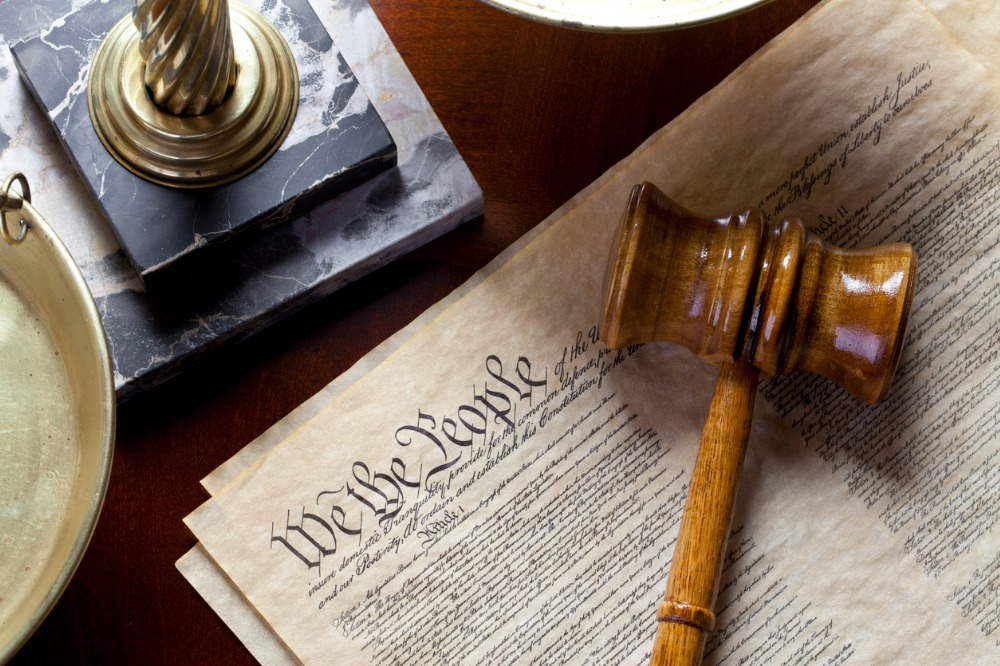 For the most part, young people growing up in Australia are told that they live in a healthy democracy. But are we a healthy democracy?
In 2007, 86% of voters were satisfied with Australia's democracy, but that figure dropped to 72% by 2010 and then went into freefall from 2013, plummeting from 72% to 41% between 2013 and 2018.
According to results from the 2019 National Assessment Program – Civics and Citizenship (NAP-CC), just 38% of Year 10 students reached the standard of knowledge on civics and citizenship required for their year level in 2019 – the same percentage as in 2016. In Year 6, 53% achieved the benchmark, down from 55% in 2016.
Experts say this worrying slide has grave implications for the future of democracy in Australia – and with good reason.
Australia, after all, is the only liberal democracy in the world not to have either a constitutionally entrenched Bill of Rights or a National Human Rights Act.
But how effective would a Bill of Rights be in improving the health of Australia's democracy?
According to the Australian Human Rights Institute, a Bill of Rights would promote the protection of human rights by clarifying the rights held by all Australians, promote the rights of all individuals, positively impact the day-to-day lives of Australians and improve Australia's international standing.
So why doesn't Australia have one?
According to a research paper on the Federal Parliament and the Protection of Human Rights, the lack of an Australian Bill of Rights reflects the views of the framers of the Australian Constitution expressed in the 1890s.
"The prevailing view was that Australia did not need a Bill of Rights because basic freedoms were adequately protected by the common law and by the good sense of elected representatives, as constrained by the doctrine of responsible government," the authors wrote.
As for basic freedoms being "adequately protected by the good sense of elected representatives" in 2021, some say that is questionable at best.
In August, the Federal Government introduced the Surveillance Legislation Amendment (Identify and Disrupt) Bill 2020 which allows police and intelligence agencies to hack into computers, online accounts, and just about any piece of technology and networks we come into contact with. What's more, all of this can happen without a warrant and without any of us ever knowing.
There have also been serious concerns, expressed both at a national and international level, about Australia's treatment of asylum seekers, Aboriginal and Torres Strait Islander people, prisoners of war, whistleblowers and journalists.
In June 2019, the Australian Federal Police raided the home of journalist Annika Smethurst and the Sydney headquarters of the ABC after classified goverrnment documents were released. This incident not only prompted two Parliamentary Inquiries, it severely damaged Australia's international reputation on press freedom.
Dr David Roy, a lecturer at the University of Newcastle, has been a strong advocate for the arts, humanities and children with a disability. He says a Bill of Rights would significantly improve protections for young people across Australia.
"A Bill of Rights is key for young people, as is an Australian National Human Rights Act," Dr Roy told The Educator.
"Australia is a signatory to the Universal Declaration of Human Rights [1948] and yet Australia regularly is in breach with the Rights of a Child, and with the rights of children with a disability. There is no real consequence for breach."
Dr Roy said an Australian Human Rights Bill would mean there would be means to enforce the rights of children.
"No longer would corporal punishment still be on the statute books for schools in Queensland and the ACT," he said.
"Children with a disability would no longer have their rights breached in schools. A bill of rights would protect the press and children to speak freely. Free speech does not give the right to hate speech, but with no Bill of rights, our basic freedoms can be annulled."
A growing number of Australians are indeed sensing that our democracy is not heading in the right direction.
According to the report by the Museum of Australian Democracy and the Institute for Governance and Policy Analysis at the University of Canberra, satisfaction with the way democracy works in Australia has fallen significantly over the last decade.
Compounding the issue, the most recent National Assessment Program – Civics and Citizenship (NAP-CC) report, which is used to measure students' knowledge of government, judiciary and democratic processes – found that just 55% of Year 6 students achieved at or above the standard.
Worse still, the rate of Year 10 students attaining this standard was just 38% -- the lowest result on record.
Partnerships driving change
Recognising the seriousness of these trends, a push is underway to educate children about the universal importance of democracy and human rights.
In 2018, a free resource was announced for high school teachers to help children explore and understand Australia's democratic freedoms.
The Story of Our Rights and Freedoms curriculum unit was created through a unique partnership between education not-for-profit Cool Australia and the Australian Human Rights Commission (AHRC). The 18-lesson unit for Year 7-10 broadens students' understanding of democracy and its function throughout history with captivating curriculum for history and civics and citizenship classes.
Chris Vella, the head of education at Cool Australia, says students can never know too much about democracy if they are to become active and informed citizens.
"Through the success of a previous unit of work that we partnered with the Australian Human Rights Commission to create, Magna Carta, we have seen that students and teachers are seeking out engaging content in this area," Vella told The Educator.
"This is why we have continued this partnership to create 18 free lessons that explore key features of the Australian government, and how those systems act to protect the rights and freedoms of all Australians."
The Australian Human Rights Commission (AHRC) has created an interactive website which introduces Year 5 and Year 6 students to the concept of human rights.
National Children's Commissioner, Megan Mitchell, says providing education about the importance of human rights is "one of the central functions" of the AHRC.
"Through our free school resources, we aim to support teachers and students to apply human rights in their day-to-day lives and bring about positive change within their communities," Mitchell told The Educator.
"In the past, the Commission has mainly focused on developing resources for high school students. However, there is no age-limit for learning about human rights and it is important that human rights education is embedded in primary schools and early childhood education as well."
Stewart Riddle, Associate Professor of Curriculum and Pedagogy at the University of Southern Queensland's School of Education said that if Australia wants to have a thriving (or even a functioning) democratic society, young people need to be given opportunities to not only learn about civics and citizenship, but also to practise their civic engagement in authentic ways.
"There is a long tradition of research into democratic education that stretches back to John Dewey, but the basic idea is that authentic and meaningful participation in democratic practices gives the best chance for young people to critically and creatively make sense of their world," Assoc/Prof Riddle told The Educator.
"With the cuts to Arts and Humanities courses in universities as part of the federal government's 'Job-Ready Graduates' reforms and the insistent emphasis on 'back to the basics' in schools, it is clear that young people are being given an impoverished curriculum that has little to do with increasing their critical and creative engagement with society as capable and informed citizens".
There is hope yet
In 2020, the annual 'What Matters?' survey, conducted by the Whitlam Institute at Western Sydney University, found that a majority of Australian young people are "keenly political", offering hope that students will leave school as more proactive, solutions-focused citizens.
"Young people are an untapped resource for Australian democracy – not for what they will become as adults, but because of their concerns and ideas on social issues and how they can be addressed right now," Associate Professor Philippa Collin, who led the study, said.
Dr Roy agrees.
"For education to be able to fully function, schools and teachers need to have the freedom to speak truth to power," he said.
"Children need to be protected and have their basic human rights enshrined in law, ensuring those who breach their rights are held to account."