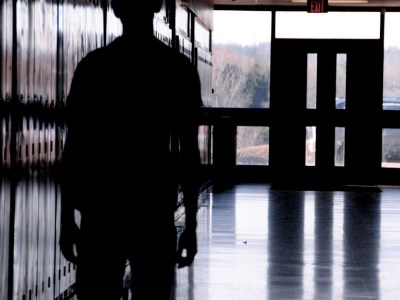 For the second time in six months, a school is under investigation for locking an autistic student inside an enclosed space.
The
Department of Education
has slammed the Kawungan State School, near Fraser Island Queensland, for locking an autistic student inside a small room with the windows boarded up, and there are now calls for the teacher responsible to be fired.
Following the incident, the department has ordered the school to shut down the "unacceptable" room and has sent out a warning to all state school principals about proper disciplinary action for students.
It is understood the boy was detained in the room with boarded-up windows up to 20 times in the past year at the school.
The room chosen was 2x2 in size, had no sunlight and was furnished by only a thin mattress on the floor.
The boy's mother described the room as "cell-like", and said her son does not want to return to the school.
The teacher defended his decision, saying the boy needed "time out".
However, Stephanie Gotlib, Children with Disability Australia (CDA) executive officer, told
The Educator
this was far from standard practice.
"This wasn't a case of time out. Time out involves giving the child some space and calming them down. This is seclusion," Gotlib said, adding that if she did the same in her household 'child services would be knocking on her door'.
"Time out is not locking a child in a cage or a 2x2 room with boarded up windows."
It is the second time in six months that a school has come under fire over such an incident.
Last month a school principal was
sacked
following an inquiry into the shocking treatment of a 10-year old autistic student in Canberra.
State Schools Deputy Director-General, Patrea Walton, told
The Educator
that the latest incident was "unacceptable" and that appropriate action had now been taken.
"The Department's investigation into the use of the withdrawal space at Kawungan State School will be focussed on improving practice. The matter has been also referred to the Department's Ethical Standards Unit for investigation," Walton said.
"Teaching is a highly skilled profession and our workforce is committed to providing a world class education to all students, including those with disabilities.
"Addressing challenging behaviour is one of many demanding aspects teachers deal with every day."
Walton added that schools must "find a balance" between supporting the individual student and ensuring their welfare and that of other students, who have a right to learn in a safe environment.
In the 2015-16, the QLD Government allocated more than $929m for services to support students with disabilities in state schools.
"As part of this commitment, the Government recently announced through the Advancing Education action plan, the establishment of a dedicated Autism Hub to provide world class practices to support students with autism," Walton said.
"The Autism Hub will be operational from the start of the 2016 school year."
Gotlib said that the reported cases are just two of potentially many others in a system that fails to give adequate support for children with a disability.
"We're getting more frequent reports of restraint and seclusion of children with a disability, and this says a great deal about the education system's inadequate support, funding and expertise," Gotlib said.
"This is a reflection of a system in crisis which is not providing a quality education experience for these children."
Gotlib added that even if additional funding was provided, there was no cohesive strategy as to how to use it.
"Yes, we need more resourcing but we need a more clearly articulated reform plan, but at the moment that's not on the table anywhere," Gotlib said, adding a "critical examination of attitudes" was needed to understand why these incidents occurred.
"This kind of thing never happens to children without disabilities. It should never happen to any child, but when it does happen it involves children with a disability."