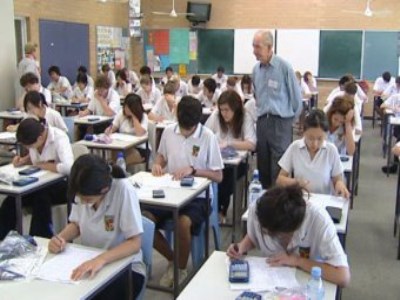 Trevor Cobbold
, national convenor of public school advocacy group,
Save Our Schools
(SOS), has accused the Federal Government of misleading the public with its claims that it remains "totally committed" to funding public schools.
He said that while the States would continue to receive federal funding under the Prime Minister's recent income tax proposals, they would not be required to spend it on specific purposes, such as education.
Cobbold suggested closer examination of the reforms suggested by Prime Minister,
Malcolm Turnbull
, at the recent Council Of Australian Governments (COAG), adding that funding of public education continued to face the axe.
"It is a sleight of hand that ranks with Tony Abbott's and Christopher Pyne's 2013 pre-election big lie that the Coalition was on a 'unity ticket' with Labor on school funding," he said.
"Under this [the Prime Minister's] proposal, there would be no targeted federal funding of public education as there is now, and has been for the last 40 years."
In a speech to the Independent Schools Council of Australia (ISCA) last month, Federal Education Minister,
Simon Birmingham
slammed
the states for "failing to invest in their own schools".
Birmingham argued for a change in the current funding arrangements, which he called "highly bureaucratic" and "unhelpful for "accountability in the system".
"It is far better for those parents to know that 100% of the funding and administrative decisions come from one single level of government, and that level of government is accountable for what happens in their school," he said.
Last month, COAG agreed to consider a proposal for the Federal Government to share personal income tax revenue with the states in return for reducing the number of tied federal grants to the states.
However, Cobbold cautioned the devil was in the proposal's detail.
"It would be up to the states to decide how to spend their share of personal income taxation. In the extreme case, they could decide not to spend any of it on public schools," he said.
"This would likely reduce the prospects for disadvantaged students and exacerbate inequity in education," he said, adding the move would most likely increase resource disparities between public and private schools," he said.
Cobbold added that the Prime Minister's support for ending federal funding of public education "exposed his many statements endorsing a fair go for all Australians as a complete sham".
"The Prime Minister wants national responsibility for supporting the privileges of private schools, but not national responsibility for reducing inequity in education," he said.
However, in a statement provided to
The Educator
, Birmingham said the Federal Government had never proposed that there would not be funding flowing from the Federal Government to states and territories for public schools.
"It is an utter lie to suggest that the Turnbull Government's funding is doing anything but increasing, meaning there is no reason schools won't be able to continue to support teachers and existing initiatives, such as specialist teachers or additional resources," he said.
"The fear being spread by Labor and others about schools funding detracts from the real conversation we need to be having. While funding matters, what you do with it matters even more.
"Evidence tells us to focus on the quality of teachers and teaching; the teaching of reading and maths; and the engagement of parents. That's exactly what the Turnbull Government is doing."