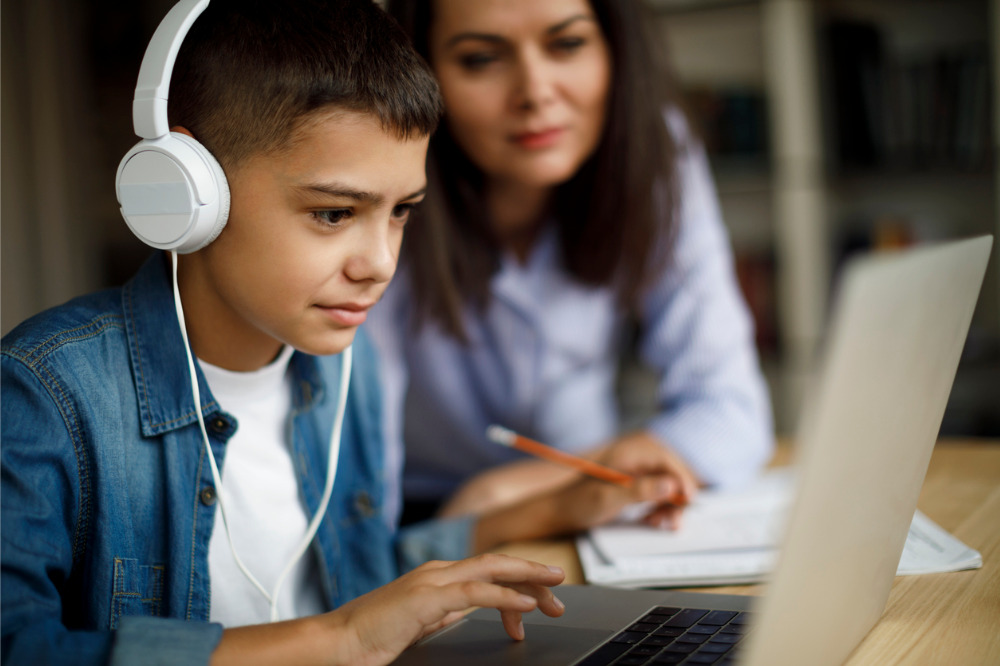 The disruption caused by the COVID-19 pandemic has meant that teachers in Australia and around the world are looking for the best ways to continue to support student learning outside the traditional school or early childhood setting.
This has meant many are looking towards solutions like virtual/online learning or home-schooling at scale.
Last week, the Australian Institute for Teaching and School Leadership (AITSL) unveiled a best practice evidence guide, called Spotlight, to guide teachers on setting up online learning and advice teachers can give to parents during this process.
In this guide, special consideration is given to principles demonstrated to benefit student outcomes and wellbeing.
Below, The Educator speaks to AITSL CEO Mark Grant about how teachers can use practical approaches to establish online and distance learning for their students.
TE: I understand that the Spotlight identifies best practice evidence to guide teachers on setting up online learning. What will this look like for teachers conducting lessons remotely?
MG: We know that the focus for teachers is always on the learning and wellbeing of their students. While the emergence of the coronavirus is requiring teachers, systems and sectors to think and work differently, the same innovation and drive teachers have always shown to support and engage students will also shine through in the coming months.
Teachers and leaders are working hard to ensure that all students continue to get the high-quality education they deserve – whether this occurs physically in the classroom or through new remote online and distance education settings. The nature of the Australia's response to COVID-19 has changed some of the most basic aspects of student and teacher-life, including the isolation students now have from each other.
At AITSL we have examined the evidence about how learning can best be delivered online, to equip Australian educators with the tools and information they need to make this transition to online and distance learning. We have unearthed some of the evidence from secondary and tertiary education and online education to shine a light on what works. This evidence provides useful information that can help guide teachers on ways they can focus their expertise to make teaching and learning work inside these new constraints.
The evidence shows that online and distance education operates best as a system of dynamic, inter-related components, which are tailored to the needs of the learner. Teachers can combine these components or adapt them to suit their specific curriculum goals. By thinking about the importance of all the components, teachers can make sure that every activity they plan is helping to build an effective learning experience for their students.
Maintaining strong communication with parents and carers to create a suitable home learning environment, and to create a supportive online community of learners, will be a key focus for teachers in setting up successful online and distance learning.
TE: The Spotlight importantly notes that it is critical that both teachers and parents work together to implement practical and evidence-based solutions. How does this resource aim to facilitate and achieve this cooperation?
MG: The evidence shows that the quality of teaching is the strongest in-school factor associated with student outcomes. Outside the school the greatest single impact on student learning is the quality of support and the intentional learning opportunities that are provided by parents. In fact, the factors external to schools themselves has the greatest impact on student outcomes and as such, all teachers know the importance of strong relationships with parents and carers as part of supporting the best possible outcomes for students. Parents were after all a child's first teacher.
Now more than ever, we find ourselves in a situation where teachers and parents need to work closely together as an educational team. This is why it's so important that teachers and parents continue to effectively engage with each other about student learning. Luckily, there are many ways to facilitate this ongoing communication (various online platforms, email, phone etc.) to make sure everyone is on the same page.
Our Spotlight recognises that this partnership is critical and that is why we have included advice for teachers working with parents. We have also included information on how parents can take a proactive role in supporting learning in the home – such as reading with their children, being supportive, and establishing home learning spaces that are suitable for their child's learning.
I have confidence that both teachers and parents will find new ways to work together, and I hope that teachers and parents alike find something useful in the new Spotlight.
TE: School leaders are used to directing and collaborating from within the traditional school environment. What will the role of the school principal look like in this new remote teaching and learning environment, and how does Spotlight help them navigate this?
MG: Just as Australians in other sectors need to work to remain connected and supported, this is especially true of our schools and our teachers. This is where school leaders will play a key role. Keeping teachers connected, listening carefully and exploring responses to challenges as they emerge, will be critical to enable teachers to focus on high quality teaching. In truth our leaders are learning this themselves in real time.
Principals and school leaders will be in the best position to identify and put in place the support that teachers need – as well as helping all staff stay connected. I'd encourage school leaders to check out some of the existing resources on the AITSL website including the Interactive Leadership Profiles which include resources to support the wellbeing of staff. As AITSL, we have consulted with principal representatives and are now finalising what other resources or support we can provide school leaders. Stay tuned!
TE: Spotlight highlighted four questions to consider around context, content, connection and impact in order to "provide a framework for differentiating between problematic and normal use of technology during this period of significant change in schooling". Can you tell us more about this and the practical benefits of this framework?
MG: One of the challenges for parents/carers and teachers will be around screen-time and deciding what is healthy and appropriate for students. For a long time, there have been debates about where the line is in terms of screen-time and young people, and what is the best approach to supervising young people using laptops, tablets and mobile phones. Evidence suggests that it's not necessarily the amount of screen time, but rather the quality of that time that is important to consider.
The reality is that many students are going to be accessing these technologies much more than previously – particularly in situations where classes are conducted online. Students are likely to also be using technology in their down-time, particularly if they are not able to go out because of social-distancing. Now more than ever it is important for teachers and parents to help children build digital resilience by having conversations about online experiences and modelling positive online behaviour and values.
We recommend that parents and teachers consider the findings from researchers including Blum-Ross and Livingstone when thinking through the use of screens:
What's the context? Where, when and how is digital content being accessed?
What's the content? Is the content age or skill level appropriate?
What connections are being facilitated? How is this online experience facilitating (or impeding) positive social connections?
What's the impact? Is the child physically healthy with a healthy sleeping routine? Is the child enjoying their digital experiences and continuing to engage in hobbies and social interactions?
By taking a purposeful approach to screen use, students will be able to continue to learn in new and engaging ways.