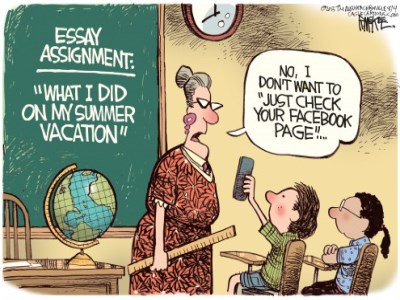 Dennis Yarrington
, president of the
Australian Primary Principals Association
, said that the lines of communication are becoming frazzled as we transition from one concept of education to another.
"We're in a kind of gap where we've got educators hanging on to the traditional viewpoint of schools and others who are looking at 21
st
century education and preparing kids for the digital world," Yarrington told
The Educator.
This gap, Yarrington said, has ramifications for how well educators prepare children for the 21
st
century workplace.
"It's become a type of tension. We've got some parents and teachers who live on Earth and we've got our students at school who live on Mars.
"As a principal, if you haven't got your teachers working around 21
st
century learning skills, you're not preparing your students for the workplace that they're going to go into," Yarrington said.
"Many parents and teachers are still trying to understand the impact, the reality and connections of students who have been raised and live in a digital world to those who haven't."
"We need to be asking 'what is the best communication that helps us translate the language and the world of our students to the world of our parents and teachers and principals?'"
However, Yarrington said he was encouraged by the shift towards 21
st
century learning in schools.
"I've noticed that in the last six or seven years alone that the number of schools looking at alternative learning environments is growing. I think that as principals and teachers attend conferences and networks, it will continue to grow.
"We're seeing more schools implement BYOD, enabling students in classrooms to use the type of technology they'll be using after school," Yarrington said.
"I think the next challenge is secondary schools. We're seeing some secondary schools that are very much in line with 21
st
century learning. The next major conversation could be around dropping the ATAR from an assessment point of view and moved into something a bit more 21
st
century.
"Why is entry into university based on one assessment?"