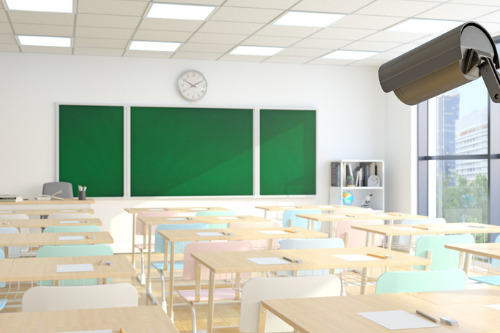 An educator's first responsibility when receiving an allegation of abuse is investigating and reporting the incident through the appropriate channels.
Importantly, the educator must record every detail possible to ensure the allegation is substantiated by evidence.
But what if the child who has been abused cannot speak?
This complex question has led some experts to recommend the presence of surveillance cameras inside special needs classrooms to ensure the protection of children and the accountability of the educators teaching them.
Closed-Circuit Television (CCTV) cameras are already in place in many schools in playgrounds and reception areas, both in Australia and around the world. It is estimated 85% of UK schools have CCTV in use.
Last week, the Dallas Independent School District (DISD) announced it would become one of the first major school districts in the US to require cameras in all special education classrooms.
Apart from the clear objective of protecting children, the DISD wants to help school officials find out what happened in a classroom should an incident arise.
An article published in Dallas News noted that Texas law already requires cameras in self-contained special education settings if a parent, staff member or school trustee requests one.
However, the new policy means that parents cannot opt-out of a special education classroom if they don't want their child under surveillance.
'Classrooms are not private places'
According to Dr David Roy from the University of Newcastle, who works closely with governments and disability advocacy groups, CCTV cameras is a potential tool that needs to be looked at through the prism of health and safety, as well as potential pedagogical benefits.
"We have cameras in all aspects of our lives, but in the classroom, they can protect children and staff from bullying and abuse as a preventative measure – similar to speed cameras," Roy told The Educator.
"Staff can have evidence to refute vexatious allegations, while parents can have evidence to support concerns. Staff can also use classroom footage for personal reflective professional development".
In addition, says Roy, students are less likely to bully knowing their actions are being recorded.
"Beneficially we know that individuals become used to cameras and lose their self-consciousness so there will not be a detrimental effect on daily classroom practice," he said.
Roy said that while there are CCTV cameras in many schools now, public foyers and playgrounds, the only place we seem to lack them is in the classroom.
"Classrooms are not private places," he added.
A school in Delhi, India, recently became the first in the world where parents can access live CCTV feeds of their child studying in the class.
India made the decision to install surveillance cameras in all of its classrooms after a number of violent incidents that gained national media attention.
Roy said that while India's proposal of live streaming is fraught with safety issues, it is not an issue if society trusts schools to store the most confidential medical detail, storing CCTV footage.
"While education is often antediluvian in responses, with the need for putting child protection before job protection as well as respecting workplace safety there is no doubt this will become a reality," Roy said.
"It just depends on whether we place more value on using CCTV to protect retail stock than we do on protecting children, and staff".
'Big brother' fears understandable
Dr William McKeith is a former school principal and managing director of international education consultancy Schools Active Worldwide. He argues that Dr Roy's points about the security and safety of students "do not outweigh the privacy and teacher freedom interests".
"I agree with teachers that express concerns that 'big brother watching you' – it is a real fear, and this [CCTV cameras] is no way to manage behaviour and actions within classrooms," Dr McKeith told The Educator.
"Quite the opposite is required, such as more preparation and training of teachers in effectively managing classrooms, caring for and responding to the needs of children with classroom challenges – all children; expenditure on classroom support system; smaller class groupings," he said.
Dr McKeith said teachers and education policymakers also need to protect their institutions from the "pervasive intrusion of commercial interests".
"Clear guidelines must be established which give the responsibility for CCTV to school boards and school management, in the case of government schools, parameters set and maintained by central office," Dr McKeith said.
He added that most schools have little knowledge about the security options available.
"Control for the process of establishing need, selection of response, implementation needs to be placed at the local level and approved and overseen by education's head office," Dr McKeith said.
"Each school has particular needs and determining these and responses should be at the local level".