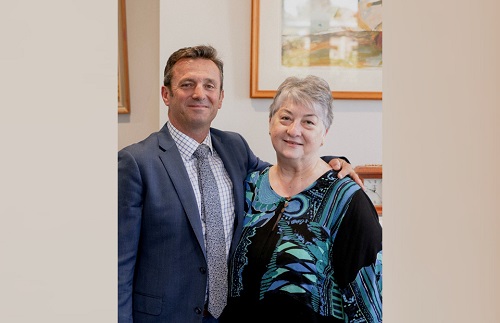 Last Friday, Perth's Wesley College welcomed its eighth headmaster, Ross Barron, who was previously the head of Senior School at Hale School.
When the College selected Barron in April last year, its Council chairman Jim Walker, said he had demonstrated a track record of "transformational leadership success" throughout his career, as well as a "deep faith and a readiness to step up to a Head of College role".
Barron replaces the College's third longest-serving headmaster, David Gee, who now plans on pioneering a business to assist leaders in their roles through mentoring.
The College, which has approximately 1,300 students from a broad range of metropolitan, rural and international backgrounds, is renowned for its forward-thinking practices.
In June 2018, the College opened the Clive Hamer Wing which features Virtual Reality gear, laser-cutting machines, 3D printers and spaces for students to prototype games and robots.
At Barron's Commissioning Service, he paid tribute to his former teacher, Aurora Stefani, who guided him as a student at South Kalgoorlie Primary School.
"She understood that in order to teach me, she had to find a point of connection and engage with me as a person, as a young student," Barron said.
"This remarkable teacher found a way into my heart and my mind. She encouraged me to push myself towards fresh opportunities."
Barron said that once he realised what he was capable of, "the suddenly world took on fresh colour."
"I understood that by applying myself I could change my future. I could serve others and make connections. I wanted to try and help just as I had been helped," he said.
"After all, in a school as diverse as Wesley – with students and staff from all around Australia and the world, we're all looking for connections. We're all looking for someone to support us and push us towards our personal best."
This is where Barron thought the story had ended with this former teacher, as over the years even though he had attempted to get in touch with her, he was never able to find her.
Luckily for Barron he mentioned how Stefani had changed his life to a staff member at Wesley and they made it their mission to track down Mrs Stefani using the far-reaching connections that the Wesley College community have.
"I was so please to be able to turn around and say all the things that I have been unable to say to Mrs Stefani over the last 40 years and for her to bear witness to my commissioning at this great College," Barron said.
"She changed a life so that I could change lives. I will forever be grateful for what she did and thankful that she believed in me."