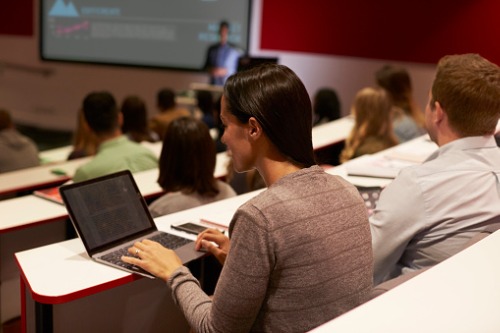 For years now, large, open-space learning areas have been a signature feature of the 21st century school environment. However, there are questions around how these 'learning hubs' are benefitting students.
Some international studies have suggested that open plan classrooms are not appropriate learning spaces for young people due to issues relating to noise and concentration levels – and now some schools appear to be recognising this.
One of them is Victoria's McKinnon Secondary College – a Year 7 to 12 co-educational public school – which has become one of a select few schools that are now steering away from open learning environments.
The College, which has a tradition of academic excellence, consistently ranks amongst the top ten Victorian High Schools.
Principal Pitsa Binnion worked closely with H2o architects to ensure the school's new Senior Centre was flexible, but also supported teachers' pedagogical requirements.
"I wanted the new Centre to cater to our needs and it was wonderful that H2o were actually able to listen. I believe in explicit teaching, not in open learning," Binnion said.
"We have great flexibility in the Centre, but in class it's about direct instruction and helping students to achieve. We're a very high performing school and we believe this is what works for us".
The College's brief for the new Senior Centre was to return to a traditional school layout, where enclosed classrooms are accessed from a central dynamic corridor.
H2o architects' design responds to and expands on this brief, by creating innovative breakout spaces for informal social interaction and tutorials, all within a three-storey vertical school environment.
The new building includes four Science, Physics and Chemistry Labs, active circulation/informal learning spaces, a Year 12 indoor study centre – including an extensive outdoor North facing decked area – 20 new classrooms, a wellbeing centre and dedicated locker spaces, among a range of other facilities.
Binnion said the design has inspired senior students and teachers alike.
"People are so excited to walk into the new building. The teachers and students love it – they never want to go home!" she said.
"They feel a real sense of pride in the Centre."