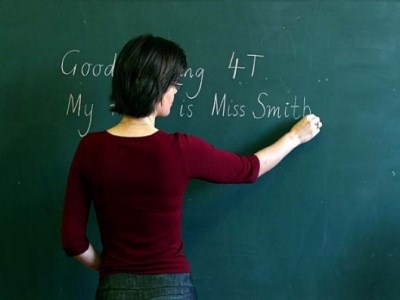 A perfect storm is brewing in Australian education and it's likely to have a major impact for years unless our teachers are given better support, warns a leading voice in education.
The status of teaching has declined and this will have serious consequences for Australia's future, says leading educator, author and professional speaker, Steve Francis.
He said the declining status, adversarial relationships and stress levels make it difficult to attract Australia's brightest to take on the challenges of teaching. However, Francis has developed a strategy designed to boost morale in schools and start to reinstate the status of teaching.
Implementing a strategy he had used as a principal, 15,000 teachers across Australia will receive a handwritten note of encouragement from their principal to mark World Teachers' Day on October 30.
Through his
Happy School
program, Francis started the postcard initiative in 2012 with 9,550 teachers across Australia receiving handwritten postcards from their principal. The response grew to 12,300 last year.
Francis told
The Educator
that Federal and State governments were "on the periphery" and still unsure of how to boost teacher morale.
"Teachers are feeling increasingly undervalued and underappreciated so we need to start within schools and make sure they're feeling valued by their leadership team," Francis said.
"Action has to start within school communities with parent-teacher communities being advocates for their schools."
Francis said the act of sending a handwritten letter reached teachers in a much more personal and heartfelt way than an encouraging email.
"People don't really get mail in the post much anymore, so it makes a huge impact when they receive things like this at home in their letterbox," Francis said.
"When the campaign first started, we got some great feedback from principals who were amazed at the response they got from their staff and the impact it had on their morale and performance."
Francis said the Happy Schools program was like "drip-feeding professional development".
"Health and well-being issues like lack of sleep and the stress of dealing with angry parents in person are going to add to stress levels, but this program covers these issues and a range of others," Francis said.
"There are about 650 schools across Australia and New Zealand that subscribe to our program and receive our weekly articles. Some of them put it on the back of their school newsletters while others put it on the fridge or on the microwave.
"It would also be great to encourage parents to write a note of appreciation to their child's teachers. It is essential that families and schools work together, in partnership for the benefit of students," Francis said.