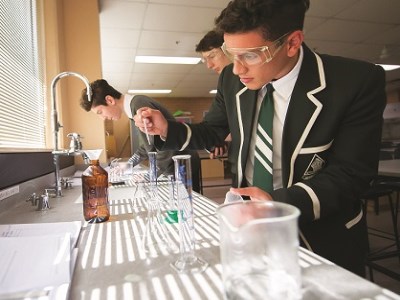 Sydney's Trinity Grammar School, a non-selective boys' school, has been educating young men for over 100 years.
The school offers not only in sport and co-curricular activities, but also differentiated academic pathways beyond the standard HSC curriculum.
As well as the HSC, the school also offers the International Baccalaureate (IB) Diploma Program, the Trinity Vocational Academic Course (offering VET courses to Year 11 and 12 students and encompassing school-based traineeships) which it provides as a Registered Training Organisation.
The school's principal, Milton Cujes, said these opportunities testify to the school's determination to not rest on its laurels, but to continue to work creatively and effectively to meet the diverse educational needs of its students.
"There is no doubt in my mind that our school community is formed and developed not so much by official pronouncements or major building works," Cujes told The Educator.
Cujes said that it there is a growing awareness by students that the school's education is not set apart by proverbial three R's of 'reading, 'riting' and 'rithmatic', but rather the three R's of human relationships.
"Namely, this is recognising the needs of others; respecting one another; and responding to the needs of others. That gives our school a heart and purpose worthy of its Christian founding principles," he said.
Cujes told The Educator about the school's development of its unique Field Studies Centre, located at Woollamia in the Shoalhaven region on NSW's South Coast.
He said this has facilitated new learning opportunities for Trinity students across many subject areas, particularly in the Human Society and Its Environment domain, which are "conducive to their cognitive, social and emotional needs".
"The activity-based nature of fieldwork, involving hands-on activities and physical interaction with the natural environment, with relevant, meaningful and challenging learning experiences, significantly supports the boys' classroom learning at Summer Hill and their overall learning outcomes," Cujes said.
"The school seeks to enable its students to develop their potential in terms of mind, body and spirit. This allows for integration of skills such as problem solving, organisation, teamwork, leadership and judgment as well as academic and physical pursuits."
On the horizon
To address the learning needs of its high potential learners, including gifted learners, Trinity Grammar School is involved in a multi-year program of work focusing on designing and implementing educational best practices.
The project, run by the Association of Independent Schools of NSW's (AISNSW) I called ELEVATE (Agile Design for High Potential Learners).
Cujes said Trinity Grammar is only of only 15 schools selected from the independent, Catholic and government sectors to be part of the project's first round.
"ELEVATE is a multi-year programme of work focusing on designing and implementing educational best practices to address the learning needs of high potential learners, including gifted learners," Cujes said.
"The impetus for the project stems from growing concerns about the underperformance of the top 40% of Australian learners, substantiated by national and international research and assessment."
He said that utilising robust design thinking, methods and processes, in combination with research evidence, practitioner knowledge and the experience of teachers, ELEVATE provides an exciting opportunity for the growth and refinement of Trinity's learning and teaching models.
"An important element of this project is its focus on individual school context, rather than a one-size-fits-all approach," Cujes said.
"Trinity is committed to creating the best possible learning environment to foster innovation, creativity and higher level thinking. These skills and recognised as being critical to thrive in the modern global economy."