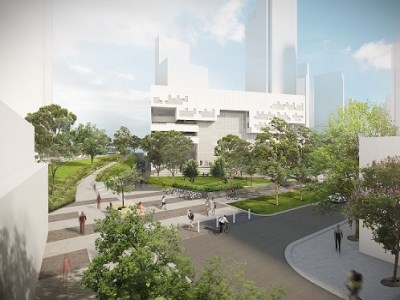 The designs for Victoria's first-ever 'vertical school' in South Melbourne, have been released, providing a sneak peek into the revolutionary learning spaces that will accommodate over 525 students.
The new five-storey school – which will open in 2018 – has impressive views of the CBD skyline and an early-learning centre on its roof. Students will also be able to study outdoors and grow vegetables on the school's seven spacious balconies.
The school, located in Ferrars Street, will respond to the need for more education facilities to cater for families living in the area – a suburb which is growing by almost 3,000 people per year.
Richard Leonard, director of Hayball architecture, told
The Educator
how the school would open up new educational and social opportunities for students and the broader community.
"With Victoria facing a schools shortage and inner-city suburbs growing in density, it's become increasingly critical that new schools offer as much as possible to not only local students, but also to local communities," Leonard explained.
"For instance, for the Fishermans Bend precinct, the new Ferrars Street primary school will incorporate 21
st
Century learning spaces for students to learn and grow in their evolving and dense inner-urban environment."
He added students would have the opportunity to learn in a series of vertical spaces that embrace contemporary education thinking, while maintaining elements essential to typical schools like active play spaces, natural light, interconnected areas and pick-up/drop-off zones.
"The school will also offer the community an array of public spaces to be enjoyed by students and locals alike, remaining open after-hours to encourage community interaction and providing spaces that are both community-based and also shared with the school," he said.
Leonard said that while it is likely Australia will see more vertical schools, the real issue was the "reconsideration of the school model relevant to dense inner-urban environments that are an increasing part of our city landscapes".
"Different models of "schools" are certainly something that we're going to see a lot more of over the coming years, as suburbs become denser, our population grows and are concept of both inner-urban schools and communities grow richer and more sophisticated," he said.
"In the City of Port Phillip in particular, the local population has grown tremendously by 20,676 people from 2003 to 2014, and has a population density of 43.46 people per hectare."
Leonard added the need for more "relevant, practical, spatially-aware schools" is something that's being seen throughout the country.
"It's something we need to address now to ensure young people have the best learning opportunities available to them, no matter where they live," he said.
"In the future, there is no doubt that new schools will need to occupy smaller sites as part of the trend of urban densification; but it's not to the detriment of either the community or the students."
He said the new schools in these areas present communities an opportunity to "evolve and grow with their city", providing them with a new shared facility and providing students with a thoughtfully planned school in which to learn and develop.
"Ultimately, we are all being challenged to develop a new mental model of school and to deliver that with innovation, creativity and invention," he said.
"These are exciting times indeed."