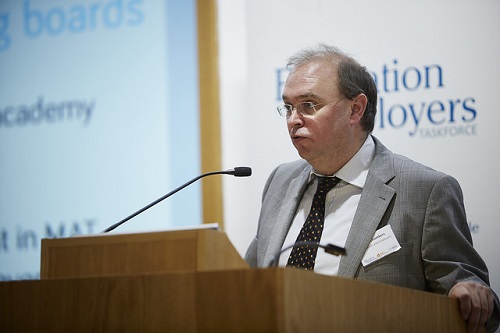 A recent report revealed that the difference between children's career aspirations from age seven to 17 are limited, and too often based on socio-economic background and influenced by TV, film and radio.
As a result, there is not only a reinforcing of gender stereotypes but also a concerning mismatch regarding students' career aspirations and the jobs that will be in demand when they leave school.
To bridge this divide and inspire students to chase the careers they want, but might not necessarily feel confident enough to pursue, various initiatives have sprouted up to connect young people with industry experts who can offer advice and hands-on training.
UK not-profit organisation, Education Employers Charity (EEC) – which has been championing this approach for the last eight years – has conducted research to find ways in which teachers and employers can link students to employers that involve the least time and have the most impact on young people.
A key finding from the EEC's research is that there is a much higher likelihood of students becoming NEET (Not in Education Employment and Training) when they haven't been exposed to the world of work.
According to the data, young people who have four or more encounters with the world of work reduced their chances of being NEET from 25% to 4%.
This week, the company's CEO, Nick Chambers, is in Australia to meet with education departments and the EEC's industry partners. At the top of the agenda is sharing this research and tackling what he called the "shared concern" of helping students from disadvantaged students get the best out of their education.
One of the ways the EEC is doing this is through the Inspiring the Future (ITF) Australia program – a free, quick and easy way for young people to meet with industry volunteers who can provide them with knowledge and advice about their desired career paths.
"We've done a lot of research in the UK and around the world, which we share, and it's been a delight to share this with our colleagues, which include education departments, schools, The Smith Family and other industry partners here in Australia," Chambers told The Educator.
Chambers said the charity's work goes far beyond school-business partnerships, involving the full scope of employers Australia and around the world.
"I use the term 'employers' because by that I mean people from the private sector from the public sector, from the health service, from Government departments, from museums. I don't just mean the corporate sector, so we use employers and not just business, which is quite an important distinction," Chambers said.
Chambers said ITF is a particularly powerful initiative because it addresses the skills gap, which is a "shared concern" for governments, employers, schools and students.
"It's in the employers' interest to show the full range of jobs out there, and it helps the schools to engage young people. If you get mutual benefit, it tends to work and what I've found here is a real willingness of all the people I've been talking to, to collaborate and leave politics aside to say we've got to focus on preparing young people," he said.
"No-one's got much time or much money, so we're looking at what is simple, easy, cost-effective and has a big impact."
Chambers said research shows that less than 1% of Australian children get to meet industry volunteers – something he said can "easily be changed".
"We're asking people through ITF Australia just to go into a local school and chat about the job they do and the skills they use in that job," Chambers said.
"They can show young people why the subjects that teachers are working to educate them about are really important, and why this matters, because without them they can't do the fantastic jobs that are out there."
Related stories: