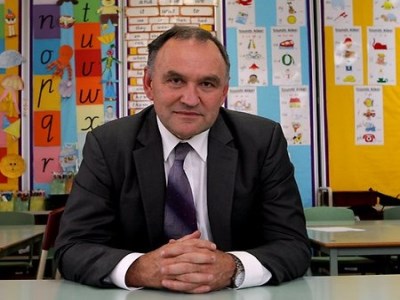 Henry Grossek's entry into education came when he was appointed principal of a school with just 14 students.

This humble beginning was the prelude to a significant and fruitful career that would span 50 years, across which he held several occupations, including metropolitan relieving teacher, published author and founding principal.
Grossek said that by the end of his first year working in Neerim North Primary School, located in Victoria's south-east, he was "extremely proud to be an Australian teacher".
"I really enjoyed the experience – making a difference to children's lives is enormously rewarding," he told The Educator.
"Being the principal of a small school in a typically rural community also opened doors to life-long friendships that I will always treasure."
In 1977, an early promotion to metropolitan relieving teacher afforded Grossek new opportunities which he said he will be "forever thankful" for.
"It was a promotion but more importantly it gave me the chance to teach in more than 50 different schools in Melbourne over a two year period and meet some of the most amazing teachers and school leaders in our school system," Grossek said.
"It was the best professional development of my career. I was also privileged to have taught children from umpteen different ethnic and social backgrounds and I have no doubt that this greatly enriched my teaching"
'The most challenging and rewarding experience'
Today, Grossek heads Berwick Lodge Primary School as its founding principal – a school in Melbourne's south-eastern growth corridor that enrols more than 500 students.
He said that founding the school was "the most challenging and rewarding experience" of his 50 year career in teaching.
"Starting from scratch, building a new school is a breathtaking experience, quite unlike any other in teaching. It is very demanding, always exciting and is an unparalleled personal professional development opportunity," Grossek said.
He pointed out that he was fortunate to have completed a post graduate qualification in educational leadership – a Masters of Educational Administration at Deakin University – prior to his appointment at Berwick Lodge.
"This gave me a very valuable theoretical basis on which to develop my leadership approach, in addition to the experience of having been the principal of a small inner-city school immediately prior," he explained.
'Too few principals speak out on matters of importance'
Throughout his career, Grossek has been outspoken on many matters, ranging from principal and student well-being to the former Rudd Government's Building the Education Revolution (BER) initiative, which he called "a waste" due to the significant amount of "red tape" involved.
"Sadly, I feel that not enough principals speak out on matters of importance to the teaching profession," Grossek said.
"The irony of this is that we devote a lot of time toward promoting in our students concepts of individuality and strength of character and the development of skills to enable them to engage confidently in public discussion."
Grossek said it doesn't help that so few principals speak out publicy as this can often create a "sense of isolation" for those principals and makes them "easier targets" for criticism by opponents.
"Then there's the fear factor that kicks in – fear of making a fool of oneself, or worse still, fear of perceived career retribution. That's a cultural matter and one which is a challenge for the leaders of school principals," Grossek said.
Better times are ahead
As for what's in store for Australian education in the years ahead, Grossek said "crystal ball gazing into the future is both a fascinating and fraught experience".
"We live in particularly fearful times and it's no surprise that compliance and accountability rule the day," he said.
Long term, however, Grossek is more hopeful – and he bases this optimism on the pendulum effect.
"There'll come a tipping-point time when people of wisdom and courage will say enough is enough and once again we will get back to school leaders and teachers devoting their time primarily to what matters most – educational leadership and teaching," he said.