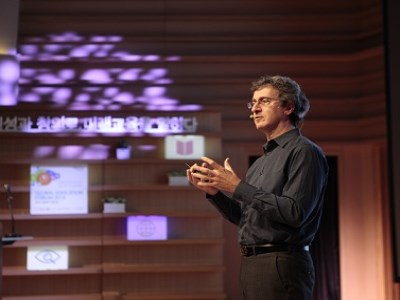 Schools are failing to prepare students for the future world and workplace, warns a global education thought leader

Charles Fadel, founder and chairman of the Center for Curriculum Redesign (CCR), is a futurist, expert, author and inventor.

He has worked with a wide variety of education ministries and organisations, and has contributed to education projects in more than 30 countries. On 11 May, he will be delivering the second Australian Learning Lecture in Melbourne.

His first lecture –'The New Success: What qualities and skills do our children need to succeed in the 21st Century?' – looked at the race between technology and education, and urged teachers to consider how to best prepare students for the future.

In an interview with The Educator ahead of the lecture, Fadel said that a major rethink of schooling is needed, and warned that what schools currently teach is "self-serving in a narrow and traditional sense".

"[Schools] do not teach for the societal needs at large and employability. This is coupled with narrow assessments focused on traditional knowledge [The 3 Rs] and placing a value on scores – not deep learning," he said.

"Teachers have not been trained to the new requirements. There is a lack of political courage due to a lack of understanding by the general population of the risks of not moving forward. In fact, change is the safest approach."

As for the major reforms that Australian education is embarking upon, Fadel said that reform is more than a question of teacher quality and school funding.

"What is required is a massive rethink about modernising what students learn as an imperative," he said.

"Science, Technology, Engineering and Maths [STEM] matter increasingly, but Humanities and Arts remain essential, each borrowing from the other, for a deeply versatile education."

Fadel said that no country has done a comprehensive redesign of their education or adapted to "a world of search and artificial intelligence".

However, he said Australia has a unique opportunity to lead the world as it has "an entrepreneurial spirit, coupled with a cogent education system willing to consider adapting".

Fadel said that in terms of technology, most parents and politicians are "lured by the shiny objects and thirst for a panacea", rather than the "tough, invisible slog of quality content and teacher training" which must accompany technology deployment.

"Digital devices are important but only if used as part of transforming education: as digital literacy, and to give young people the depth of understanding they need to succeed," Fadel said.

"We need to make sure that children have a strong foundation in the 3Rs but that they also embrace the transferable skills they need, such as problem-solving, collaboration and communication. This can be helped by digital devices."

The role of principals and teachers in preparing students for life after school is crucial but hoping that this will resolve all issues lacks an understanding of "the demands of the real world", said Fadel.

"Teaching is an isolated profession. Today the world of work is changing fast. Jobs are disappearing as automation replaces the need for people and new jobs are emerging that demand transferable skills and capabilities," he said.

"This is affecting manual labour, and white-collar jobs too. Global boundaries are disappearing too, which presents opportunities – and risks – for Australian workers."

Research suggests that students in 2017 can expect to have up to 17 jobs and five careers after they leave school. Fadel said these factors, and others, are why education must shift to give children what they need to thrive in the 21st Century.

"The requirements must come from departments of education, along with new assessments to drive new behaviours," Fadel said.