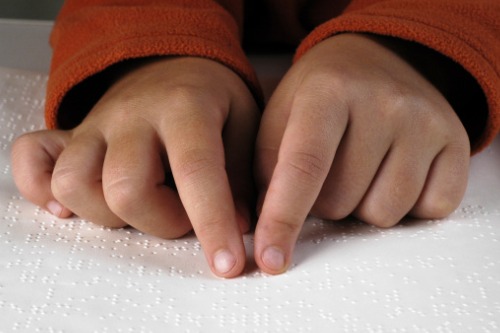 A growing body of research has shed light on the increasingly poor conditions faced by students with disabilities – an issue that schools, communities and governments are continuing to address by looking into how the education system can be made more equitable.
In the meantime, some experts are working to make school resources more accessible to students with disabilities.
In the US, the Universities of Birmingham, Towson and Puget Sound teamed up with the National Federation of the Blind to develop an online system which makes it easier to produce braille versions of textbooks – particularly maths and science textbooks – which are expensive as well as time-intensive to produce.
Towson Professor Emerita Martha Siegel, one of the academics who kickstarted the project, said they were aiming for "equity and equal access to knowledge."
Project co-leader Al Maneki, a retired NSA mathematician and senior STEM advisor to the National Federation of the Blind, pointed out that despite the existence of online versions and screen readers, blind students will need resources printed in braille.
"Sighted learners need to spend time staring at formulas, looking back and forth and comparing different parts," Maneki said.
"In the same way, a braille formula enables a person to touch and compare various pieces. Having the computer pronounce a formula for you is not adequate for a blind reader, any more than it would be adequate for a sighted reader".
The system, which includes the book structure and layouts, also provide formulas, graphs and diagrams. The online system makes use of Speech Rule Engine, an open source system, to produce Nemeth Braille Code – which is used to represent mathematical formulas.
The Speech Rule Engine also operates within MathJax, another software used to display mathematical formulas on webpages.
To produce the braille text, the team used the PreTeXt system, which was developed by Puget Sound Professor Rob Beezer, and which can automatically produce text in various formats.
The production of tactile images, which were noted to be the most difficult problem in reproducing resources in braille, is still a challenge the team is trying to address.
Maths Professor Akexei Kolesnikov from Towson University will be leading the team in developing new ways to describe images – with automating the production of non-visual representations being the goal for the team.
Long-term benefits
With advancements in producing resources, reports show that improving methods in teaching maths produces long-term benefits.
In December, a report released by the Australian Council for Education Research (ACER) found that first year university students – who had studied maths in Year 12 and take up science courses – managed to perform well in their science subjects.
A closer look at data found that students who were strong performers in Year 12 maths or even General Mathematics were found to have a very high first year pass rates. Students in Group of Eight (Go8) and non-Go8 students posted highest scores in biology and lowest in first year maths.
Further, Students who took up General Mathematics in Year 12 but were not strong performers still had lower pass rates compared to their peers who had taken more advanced maths.