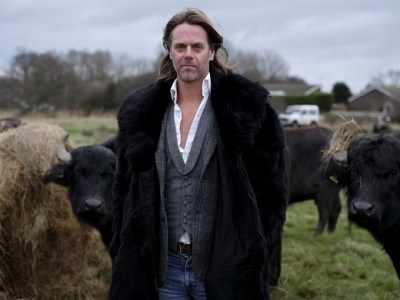 From time to time, some principals come along who break the mould of the 'prim and proper' suit-wearing professional, giving the job a bit of a colourful flair.
One principal – or 'headmaster' as he prefers to be known – in the UK town of Eastbourne is one of them.
Mike Fairclough has long blonde locks, wears 1970s vintage jeans, a knee-length bear fur coat and, when he has some spare time, teaches his students how to fire a shotgun.
The school he runs, West Rise Junior, is a small state primary school that believes students can learn just as much spending a morning blasting shotguns, skinning a rabbit or making a campfire, as a few hours in a traditional classroom.
The shotguns are given to the children once a year so they can shoot clay pigeons, a school program maintained through the help of the British Association for Shooting and Conservation (BASC).
"We do lessons about gun dogs [dogs that assist hunters in finding or retrieving game], target shooting with rifles, and ferreting – not actually killing rabbits – but they are all done in a really responsible way," Fairclough stressed to Harry Wallop from
The Telegraph.co.uk
, who went to meet him.
While from the outside it might sound like Fairclough's school is more like a high-thrills summer camp than a serious educational institution, the students – and the school – perform very well academically.
West Rise was recently awarded the
Times Educational Supplement primary school of the year
title and earlier this month, Dame Judith Hackitt, chairman of the Health & Safety Executive, said more principals should be following Fairclough's example.
The UK's Office for Standards in Education, Children's Services and Skills (OFSTED) rates the school as "good" and the curriculum as "outstandingly rich".
"The Secretary of State is now very keen on character-building," Fairclough explained.
"Well, this is what we are doing – you are not going to build character by sitting behind a desk all day writing. They need to be challenged mentally and physically in an expansive way."
Oh, and about that bear-skin coat?
"It's real bear fur, I got it in a vintage clothing shop near here," he said.