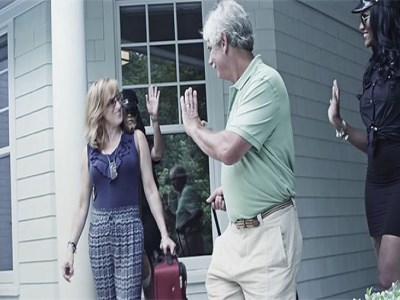 The assistant principal of Southampton High School on Long Island has been reassigned after it was revealed she participated in a hip hop music video featuring scantily-clad women drinking and gyrating at a house party.
Esther Adler-O'Keefe will now oversee "a variety of academic support services throughout the district" after being spotted in the music video
Best Friend –
a song by rapper J.R. and R&B singer Trey Songz – released in September.
In the video -- which has more than 2.1 million views -- Adler-O'Keefe plays a wife who is going on vacation. Once her character and the husband are gone, a wild party breaks out at the home.
Numerous F-bombs are dropped in the song, which feature the lyrics: "Both these girls are freaks, but they nastier together. If you want I'll take you both, it's a different kinda level. Real pimping 'bout to put them on a schedule."
The school district was not impressed.
"It has recently come to our attention that a member of our administrative staff appeared in a music video," Supt. Scott Farina wrote in an email to parents.
"The video in question showcases behaviors and language use that is not promoted by the Southampton School District.
"In fact, we actively teach our students the importance of good character and making smart choices. Additionally, this is not representative of who we are as a district nor of our students and staff."
While Adler-O'Keefe is briefly shown in the video , her actions later on in the video show she didn't condone what was going on in it.
She returns home at the end of the video to discover JR and Trey Songz passed out and, seeing that they have thrown a massive party involving sex, drugs and alcohol in her absence, angrily throws a beach ball at JR's head.