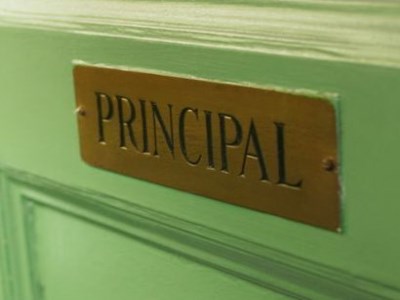 Only in students' wildest dreams would they be able to order their principal to an office, but that's precisely what Radford College Junior School students did on Wednesday.
The ACT school's 550 students earned more than 50,000 points in the annual summer holiday Reading and Writing Challenge. The reward? School staff would have to carry out a task of their choosing.
And they didn't disappoint.
The school's principal, Fiona Godfrey, and her deputies Paul Southwell and Phillip O'Regan, were instructed to walk two-hours from their school all the way to Parliament House – while wearing Dr Seuss outfits.
Having surpassed the target with flying colours, the students – many wearing their own Dr Seuss accessories – got to farewell their teachers with cheeky chants as the strenuous 13-kilometre hike (in sweltering temperature) began.
The staff's destination was the office of their boss – Federal Education Minister, Senator
Simon Birmingham
.
For the challenge, students read with their parents, participated in writing projects and submitted photos of themselves reading in strange places.
Godfrey told
The Age
that some children read under water, inside a closet, on top of a dog and at various holiday destinations.
"We have been doing this challenge since Junior School was opened in 2008 and each year the school ups the ante in what teachers have to do," she said.
"But this year we wanted the parents to take part because research shows when parents are involved in their child's learning then much more effective learning occurs."