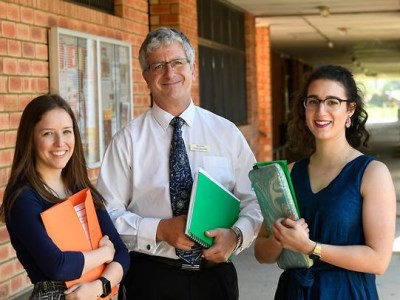 Does the postcode some children are born in determine the level of education they'll achieve? According to recent reports, this is indeed the case. Such reports provide a warning about the inequities that are evident across Australia's K-12 education system.
Research shows that less than 60% of students living in remote areas complete Year 12, compared to 78% of students living in major cities.
To explore these issues more closely, a group of passionate first-time teachers went into three low-socioeconomic public high schools across Victoria, Western Australia and Northern Territory to personally experience these challenges – for a period of 12 months.
This bold move was part of the Teach For Australia (TFA) program, which will be explored in a three-part SBS documentary called 'Testing Teachers', due to air on Wednesday 19 April.
TFA CEO, Melodie Potts Rosevear, told The Educator that graduate teachers often feel unprepared for the realities of teaching.
"New teachers need to be supported through effective inductions, in-school mentoring and specialist coaching," she said.

"They also need access to high-quality professional development that supports them to work with other teachers, develop their instruction to meet their students' needs, evaluate their impact on student learning and enhance their leadership capabilities."
'Giving students and parents choice'
One school that is being proactive about bridging the disadvantage gap is 'virtual school', Aurora College, which serves a population of 41,000 people, dispersed across 1.3 million square kilometres in 33 communities throughout NSW.

The College delivers programs and courses as close to the communities as possible, which is achieved through a network of three regional campuses as well as Community Learning Centres in most of its communities.
In an interview ahead of the Testing Teachers documentary, the College's principal, Chris Robertson, told SBS that the school "exists purely and simply to offer a broad range of curriculum opportunities for kids in rural and remote areas".
"If you're a student in Bourke and you have an interest in studying physics in years 11 and 12 – but for whatever reason your local government school is unable to provide a teacher or a class – then you can, with the approval of the home school principal, apply to study that subject with Aurora College," he said.
"It's all about giving students and parents choice."
However, what makes Aurora College unique to other virtual schools around the world is that it offers "synchronous online lessons."
"We're not a distance education model with additional technology, but a face-to-face provision with real time lessons," said Robertson.
"That's quite unique."
A survey commissioned last year by NBN Co involving 1,000 students found that 75% used the internet to help with school courses at home. It also showed 51% used online videos to help research subjects they were studying.
According to Robertson, virtual schools and their use of technology to facilitate distance learning will become commonplace in Australian education.
"What we have shown is that the technology exists to provide opportunities for groups of schools to work together, to share resources, and to share expertise," he said.
"And those schools could be geographically remote from each other, as is the case with Aurora College, or it could be that two or three neighbouring Sydney schools could share a timetable and share a classroom teacher in this way using the same technology that we're using."