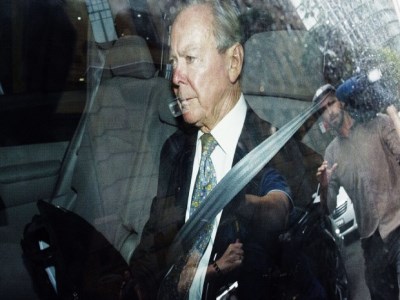 Former Knox Grammar School headmaster, Ian Paterson, could face criminal charges for failing to act on reports of child abuses at his school, a Royal Commission has heard.
However, Jim Harrowell, Paterson's lawyer, said the Royal Commission lacked the evidence to support a submission suggesting his client could face the charges.
"The findings that are sought against Dr Paterson are findings in relation to three sections of the Crimes Act — section 315, section 316 and section 319," Harrowell said.
The sections referred to by Harrowell deal with hindering police, concealing a serious indictable offence and perverting the course of justice.
The Commission has been investigating child abuse committed by several teachers at the school between 1970 and 2009.
Five teachers have been convicted of abuse during that time, while the Commission heard there is evidence against three further teachers, who have not been charged by police.
Harrowell told the Commission that Paterson, who worked at the school between 1969 and 1998, had knowledge of only one incident of sexual assault by a teacher.
"That is one clear incident where we see Dr Paterson had knowledge and how he dealt with that knowledge is a matter you the commissioners need to determine," said Harrowell.
David Lloyd, counsel assisting the Commission, said Paterson's own evidence was that he had been aware of numerous incidents or reports of abuse at the school.
"Dr Paterson had conceded that he was aware of multiple instances of potential or actual child sexual abuse ... Dr Paterson himself admitted to being aware of all those matters," Lloyd told the commission.