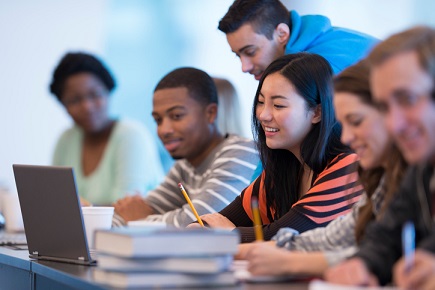 New research has found no significant differences in self-confidence between girls and boys in gender-segregated high schools.
The Hands Up for Gender Equity study, by the Australian Institute for Business and Economics Centre for Gender Equality in the Workplace, surveyed more than 10,000 students aged 12-17 from single-sex schools across South East Queensland.
The Alliance of Girls' Schools Australasia (AGSA), the Australian Gender Equality Council (AGEC), JIIG-CAL Australia and 13 single-sex schools throughout South East Queensland cooperated with the study.
Students were asked about leadership and travel experiences, self-confidence levels, types of and time spent on chores, part-time work and study commitments, and career motivations and preferences including engagement with science, technology and maths subjects.
Lead researcher, Terry Fitzsimmons, said the study filled a large gap in the knowledge required to address workplace gender inequality, starting with the education of young people.
"There have been few examinations into whether boys and girls actually differ in self-confidence, and what experiences, activities and decisions impact on levels of self-confidence in adolescents, which is a marker for future career success," Dr Fitzsimmons said.
"We set out to comprehensively understand what factors contribute most to developing a young person's self-confidence and shaping their career preferences, how these differ for girls and boys, and how they change in high school."
Dr Fitzsimmons said that by understanding these important factors and their levels of influence, communities "can help schools and parents more effectively develop self-confidence, career intention and leadership capacity in young people".
"Key recommendations include urging parents to assign and pay chores equally, encouraging schools to prioritise excursions to help develop self-confidence, and urging industries traditionally dominated by one gender to send diverse role models to schools to talk about careers," he said.
"Correcting the gender imbalance in the workforce and creating a more equal and fair society is everyone's responsibility and it's important we start now."
AGSA executive officer, Loren Bridge, said the study suggests that girls and boys "are not innately less or more confident than one another", and therefore women's lack of confidence in the workplace is being eroded by external factors such as sexism and gender stereotyping.
'The report shows what the research has been saying for decades is correct: that girls and women are less confident in mixed-sex environments such as schools and workplaces and, crucially, equally as confident as males in single-sex (female) environments,' Bridge said.
Bridge said AGSA did not subscribe to the view that graduates of girls' schools lose their confidence when they enter the workforce.
"In fact, quite the opposite," she said.
"Our schools know from their alumnae databases that their graduates are succeeding and thriving in the workplace, not only taking up male-dominated careers like engineering in ever-increasing numbers but also rising to the top of their fields."