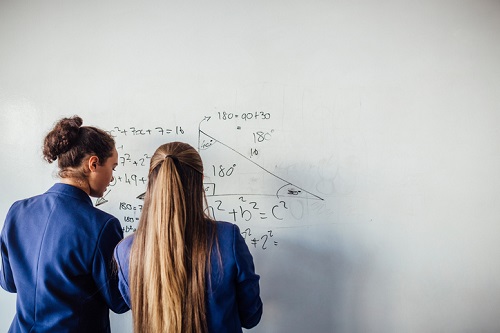 The Australian Mathematical Sciences Institute (AMSI) is urging girls to keep their options open and embrace advanced mathematics, as its latest Year 12 Mathematics Participation Report Card reveals participation is in decline.
Released to coincide with today's AMSI Choose Maths International Women's Day Careers event in Brisbane, new AMSI figures reveal only 6.9% of Year 12 girls took Higher (advanced) maths in 2017 compared to 12.2% of boys.
By comparison in 2008, 7.3% of Year 12 girls and 13.8% of boys took Higher (advanced) mathematics. The continuation of a 20-year decline, this deepening mathematics deficit threatens capacity at a time when industry demand for these skills is soaring.
With mathematically skilled graduates in growing demand across most industry sectors, AMSI Director, Professor Tim Brown, said the figures were of significant concern as students shut themselves out of future job opportunities.
"Mathematics is the doorway to a multitude of exciting pathways," Professor Brown said.
"With most students expected to change careers throughout their lives, it is the swiss army knife of skills providing the agility and flexibility to adapt to new and emerging opportunities."
With over 200 Year 10 and 11 girls from across 15 Brisbane schools expected at today's International Women's Day event and many more tuning into the livestream nationally, AMSI is hoping to inspire a new generation to choose maths and keep their future open.
AMSI Schools Program Manager and Choose Maths Project Director, Janine Sprakel (McIntosh) said the event aimed to answer the big questions of why maths is important and how it is used in the real world. Linkages, she believes are critical to keep students engaged through to Year 12 and beyond.
"We want students, particularly girls, to understand the value of sticking with mathematics and its power as an enabler with wonderous real-life applications," she said.
"We hope students leave today's event excited about maths and where it might take them."
During the event, students will be given a close-up view of real-world mathematics, as a panel of Choose Maths Careers Ambassadors share their stories and how they use maths and statistics in their day-to-day jobs.
"Girls should and can excel at mathematics. Events like this and the chance to engage with stories of the Choose Maths Careers Ambassadors is essential to challenging gender narratives in and beyond the classroom," said Sprakel (McIntosh).
Dr Jane Hunter, an expert in STEM education at the University of Technology Sydney, said girls engage with STEM subjects when they see the applications and when their learning is valued.
She points to her STEM research in eight disadvantaged primary schools in Western Sydney involving 37 teachers and 1000 students aged 5-12.
"The studies found that girls prefer 'hands on lessons' where they can work in teams to build prototypes, solve problems in circuitry, and develop sustainable solutions to waste," Dr Hunter said.
"Some of the schools had lunchtime 'Mothers for STEM classes' and teachers' reported a significant increase in engagement in STEM when mothers are interested in their daughter's learning in these disciplines".
Dr Hunter added that younger girls in the early years see teamwork as a way to rehearse their leadership skills.
"They don't want to learn STEM subjects in isolation but together to see its real-world application in terms of creativity and future career choices – especially when exposed to female role models in STEM," she said.