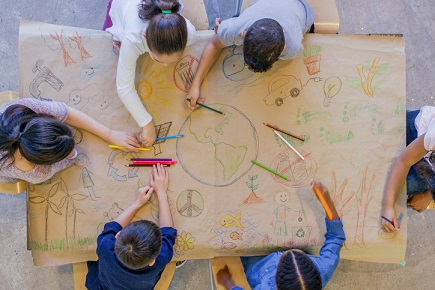 It's back to school soon, but how can you do it as sustainably as possible?
There's a lot you can do to make a difference, set a good example and teach your kids some good life skills at the same time.
Below, Sustainability Victoria – an organisation which promotes environmental sustainability in the use of resources – shares its top tips.
1. Lunches:
Get the kids to make their own lunch and use containers suited to nude food which eliminates the need for plastic or aluminium foil wrapping. If you do need to wrap, reusable beeswax wraps be used instead of plastic. Find out about them online or do a course on making them at your local neighbourhood house or community arts centre. Water bottles can be frozen to keep lunches fresh in summer. Some people use a thermos as a year-round way to keep liquids (like drinks and yogurt which you can decant from a larger container) at a constant temperature. Encourage your students to use the school's compost bins or bring home their scraps for yours.
2. Make your own snacks:
Despite what they say, many kids have plenty of time on their hands. Teach them to make their own muesli bars and other snacks. Be patient. It's a life skill.
3. Get more value:
Use the Love Food Hate Waste website to get great recipes to use last night's leftovers in exciting ways for school (and work) lunches.
4. Mmmm coffee:
If your teenagers are in the habit of buying a cuppa before or after school, a 'keep cup' is a good investment.
5. Stationery:
Save money by digging out pens, pencils and other consumables from drawers, cupboards and bags rather than buying new ones. Many stationery makers have a range of notebooks made from recycled paper. Greencollect at Braybrook sells recycled stationery and other excess office supplies from businesses.
6. Textbooks and uniforms:
Most schools have second-hand book and uniform shops, but your local op shop is also worth trying. Many high school English and literature books are available free on Kindle. For other subjects ask teachers what the difference is with this year's version of a textbook compared with last year's.
7. Music:
Teachers can often bridge the gap between an instrument sitting unused on a bedroom shelf and a student. You can often get a better-quality instrument this way, rather than paying more for new.
8. Transport:
Walking or riding to school is a great way to stay fit. It saves fuel, reduces vehicle pollution and traffic jams at the school gate. Otherwise park a short distance from the school and walk with the kids and use it as an opportunity to teach road rules. Catching the bus is often an option, too.
9. Furniture:
Buying a desk, bookcase or filing cabinet? Second-hand office furniture shops often have very modern goods at a much better price than new and they will last.
10. Get the school community involved:
Ask your school to join the Resource Smart Schools program and Sustainability Victoria's TAKE2 program. TAKE2 is about individuals, groups and organisations joining forces to set their own objectives and act to preserve the planet.
Related stories:
A global approach to education
Schools take action to address water conservation