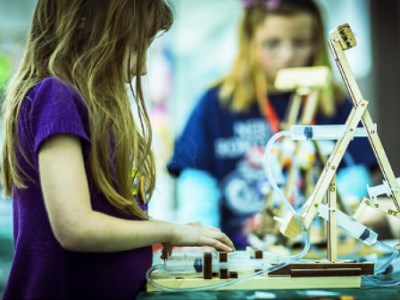 A new study shows some promising trends for the future of female engagement in STEM education, with figures showing that four-in-five Australian female STEM graduates take less than six months to land their first job.
The second edition of the Mastercard Girls in Tech research showed that among Australian first job seekers who graduated with a STEM degree, 84% indicated that they took less than six months to land their first job and 63% of these graduates were "very satisfied" with the job options they had upon graduation.
The results were based on interviews that took place in December 2016 with 2,270 girls aged 12-25, across six markets in Asia Pacific.
The report found that the majority of STEM graduates are working in a field that relates to their degree (80% in a STEM job) and decided on their current path during university – on average at 20 years old.
According to the findings, females who take on STEM-related jobs are likely to be working in Computer and IT or in Healthcare and Medical.
When asked what would attract girls to pursue STEM careers, young girls (17-19 years old) cited the challenge (42%), the ability to learn something new (35%) and job security (31%) influenced their decision.
Karen Lee, head of strategy at Loyalty Solutions, Asia Pacific, said the results show that STEM is not just a fulfilling career choice but also has "the depth and breadth to satisfy first job seekers".
"While the results are encouraging, they highlight some deeply held misconceptions by young girls and young women with regard to the study and pursuit of STEM – and the imbalance," Lee said in a statement.
"The study indicates there is a need to encourage girls to pursue STEM at school and provide those who are already studying with the opportunity to network with female professionals in the industry."
Lee added that Mastercard has a number of initiatives which aim to address these opportunities, including its sponsorship of the recent Women in Payment Awards and 2017 Australian Women in Payment Symposium.
"This is in addition to our Girls4Tech education program, both aiming to inspire, engage and cultivate an interest in STEM for those pursuing a career and interested in studying the subjects at a high school level," she said.
With reports showing that young women remain underrepresented in IT classes and careers, a range of initiatives aimed at boosting female engagement in STEM education, and breaking through gender stereotypes, have sprung up in recent years.
Some of these include Digital Divas, SHE Leads and Engaging Girls in STEM, and have been spurred by a $3.9m Federal Government grant handed down in December, aimed at encouraging women's participation in STEM education.
There have also been efforts by some female students to inspire their peers to break through the stereotypes that hold many young women back from engaging in these increasingly important subjects.
One of them is Amy Zhou, who was enrolled at the Queensland Academies Health Sciences Campus on the Gold Coast before graduating late last year.
Zhou – an ambassador for the Australian Science Innovations (ASI) – has a passion for science which has seen her take a molecular biology course at university, complete her Certificate III in laboratory skills and conduct research at the Griffith University.

She says one of the factors behind the drought of women in STEM education is the fear of being portrayed as a "nerd" at an age when most teenage girls are striving for popularity at school.

"There are a lot of incorrect and biases and stereotypes against females who excel in STEM subjects," she told The Educator, pointing out that this was something she has had personal experience with.

"In Year 6 and Year 7, I was always seen as a nerd at school, simply because I had excelled in maths and science. I knew that I was much more of a mathlete than an athlete, but being called a nerd affected my self-confidence because that word has a negative connotation."

Zhou said that without nerds, the world could be a very dull place, as they are the ones who drive the advancement of science and technology.

"What people don't realise is that nerds are ones who are going to change the world in the future. When I got out of that phase I realised that it was okay to be a nerd, and even today I am proud to be a nerd," she said.

"That said, this is one of the factors holding young people – especially women – back. Many young women don't want to be seen or labelled as a nerd because it might affect how other people see them.

"But I think this is kind of silly, because almost all jobs require STEM skills. Most people have a smart phone, so we use technology on a day-to-day basis, but the negative assumptions about being involved in STEM are holding women back.
Related stories:
Meet the schoolgirl championing female STEM engagement
Principals play 'pivotal role' in female ICT engagement