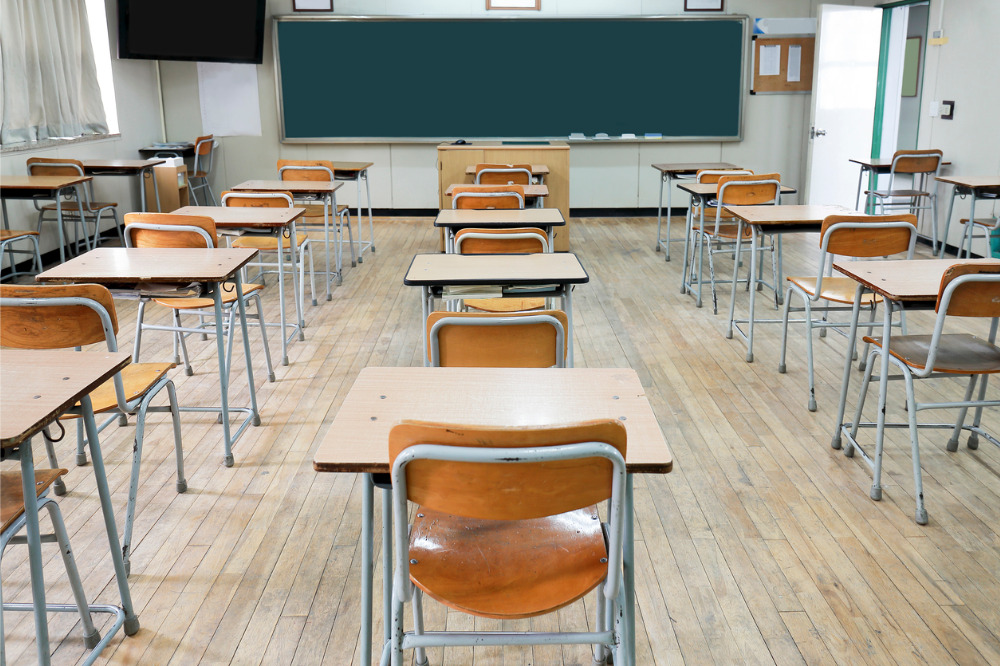 The Federal Government has put a $3bn offer on the table for Australia's private schools to resume face-to-face teaching within four weeks.
In a letter sent to the sector by Federal Education Minister Dan Tehan on Tuesday night, schools were offered the option to apply for their July 2020 recurrent funding payment to be brought forward to May and June 2020.
Approved authorities will be able to access up to 25% of their total annual recurrent funding, which will be paid in two separate schedules on late May and early June.
The purpose of this payment option will be to financially assist private schools in their response to COVID-19 and also encourage the re-engagement of students within the classroom setting.
To be eligible for the first payment of 12.5%, private school boards must be open for physical campus learning in Term 2 and to have a plan to fully re-open classroom teaching by 1 June. To be eligible for the second payment of 12.5%, boards must commit to 50% of their students attending classroom-based learning by 1 June.
The plan puts pressure on state and territory governments – particularly Victoria and Queensland – which have so far resisted calls to resume face-to-face teaching.
'Exacerbating inequalities'
"At a time when we're being told all 'we're all in this together', we have further gifts to the private school sector," NSW Teachers Federation president Angelo Gavrielatos told The Educator.
"It is important to note, that our public schools are operating well below the school resourcing standard. Yet, the gov chooses to exacerbate inequalities at this time through this decision".
On Monday, Minister Tehan urged teachers' unions to "stop and think of the impact of us not having teachers in the classroom" especially on vulnerable students and those with low socioeconomic backgrounds.
"Just two days ago, Dan Tehan was lecturing us about disadvantage and inequality. This latest decision lays bare the hypocrisy," Gavrielatos said.
Australian Education Union federal president Correna Haythorpe said COVID-19 "continues to highlight the deep inequality of the Federal Government's school funding regime".
"While their focus continues to be on cash incentives for private schools, it is public schools that have been denied fair funding as the vast majority will not reach 100% of the Schooling Resource Standard by 2023," Haythorpe told The Educator.
"Our concern is ensuring public schools are safe for students and staff, are properly funded and that funding inequalities in the education system are addressed. It's time the Federal Government prioritised public schools".
'Staff and students in an unfair position'
Independent Schools Victoria chief executive Michelle Green said the move has placed staff, students and parents in the state's private schools in "an extraordinarily difficult and unfair position".
"Schools now have just two days to decide if they are able to provide a safe workplace for their teachers and a safe learning environment for their students, in circumstances where they are all under incredible strain and many are under financial pressure," she told The Educator.
"If they resume on-site education, they will be rewarded with financial support. If not, that support will be withheld".
Green said Independent schools are being used "as a wedge in a policy disagreement" between the Federal and Victorian governments.
"This is unfair and entirely inappropriate when what's at stake is the health of children and their teachers. The students and teachers at Independent schools are being pitted against their government counterparts".
'A potentially divisive decision'
NSW Secondary Principals Council president Craig Petersen said the Federal Government's decision "appears to be yet another example of inconsistent messaging and policy on the run".
"It was only weeks ago that the Federal Government was threatening to withhold funding from non-government schools if they did not re-open after many closed early before the Easter holidays," Petersen told The Educator.
"Now it seems that they are to be rewarded for simply doing what they are supposed to do and what all of our public schools are already doing".
Petersen said the Federal Government's move represents "a potentially divisive decision in the middle of a pandemic".
"What is being done to support those disadvantaged students for whom our Federal politicians have been voicing such concern?"
'Not a handout'
Meanwhile, the Independent Schools Council of Australia (ISCA) has welcomed the announcement, saying it will help to alleviate "major cash flow issues" facing many schools resulting from the financial impact of the COVID-19 pandemic.
"It is important to note that this is not a handout. It is simply a matter of adjusting the timing of one of the regular scheduled payments to assist in effective financial management by schools," ISCA CEO Dr David Mulford said.
"While the health and safety of all students and staff remain of the utmost priority, Independent schools remain supportive of the Government's intention to reopen schools in a timely manner and look forward to working cooperatively with the Government to restore face-to-face learning as soon as practicable".
Independent Schools Queensland (ISQ) executive director David Robertson has asked that member schools follow the advice of the Queensland Government and health authorities within the context of their community needs and position.
"The offer of the Federal Government does not account for the legal obligations of independent schools in Queensland, which include Public Health Directives, Workplace Health and Safety laws and the common law duty of care that independent schools must comply with," Robertson said.
Each independent school authority has been asked to respond to the Federal Government offer by Friday 1 May.
"We are continuing to work with our schools, Federal and State Governments, the department of education and health authorities to ensure the continuity of student learning," Robertson said.
"Independent schools have always and will continue to give priority to the health and safety of students and staff whilst providing quality teaching and learning to all students".
The Educator has contacted the office of Federal Education Minister Dan Tehan for comment.