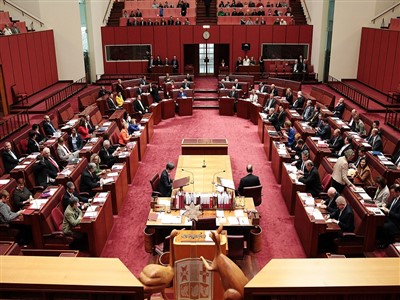 A potential party-room split threatens to torpedo the Federal Government's $18.6bn school funding plan ahead of a crucial Senate vote tomorrow.
However, Federal Education Minister, Simon Birmingham, says he does not expect internal unrest to stop the government from implementing its proposed school funding plan.
Birmingham's comments, made to reporters in Canberra today, come as two Liberal Senators and a lower house MP suggest they will oppose the Federal Government's $18.bn 'Gonski 2.0' school funding plan.
They are also opposed to a deal with the Greens, which Senator Eric Abetz said would be "absolutely horrific".
Still, the Federal Government intends to push ahead with its funding plan, which will be discussed in a party room meeting today and debated in the Senate tomorrow.
"The government remains committed to its model, to its plans. I'm not anticipating changes being discussed or adopted in the party room," Birmingham said.
To get the Greens on board, the Federal Government has offered to fast-track the school funding rollout from 10 years to six and add an additional $5bn on top of the pledged amount. This would see schools get $24bn over the next ten years.
Another compromise being offered by the Federal Government to the Greens is greater accountability on state government funding and the appointment of an independent watchdog to oversee how the money is delivered.
The proposals will be considered by the Greens in a party meeting today.
However, the staunch opposition of the Catholic schools sector remains a thorn in the Federal Government's side. Catholic school bodies say the deal will see them lose billions of dollars.
On Monday, leaked modelling revealed that Catholic schools stand to lose $4.6bn over the next 10 years under the Federal Government's funding plan.
The secret data, which was provided to the Senate crossbench ahead of this week's vote, shows Catholic schools missing out on $705m over the next four years while public schools reap $693m.
Senator Abetz said he was "very concerned" about Catholic schools missing out on funding, but stopped short of confirming that he would vote against the Coalition's proposed funding plan.
"I just wish there was more concentration on acknowledging the contribution of the mums and dads who pay for their children's education with their after-tax dollars and not so much about so-called rich schools," he said.