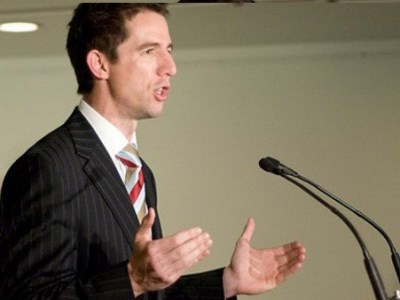 Federal Education Minister,
Simon Birmingham
, has blasted state governments for having the "gall" to complain about an education funding crisis which he says does not exist.
Birmingham made the comments during a speech to the Independent Schools Council of Australia (ISCA) yesterday, where he slammed the states for "failing to invest in their own schools".
Dismissing claims that the Federal Government had cut back on school funding, Birmingham said the Turnbull Government was the one doing the "heavy lifting", with its spending growing twice as fast as state governments over the past decade.
"The federal per student funding for students in state government schools is 66% higher, in real terms, than 10 years ago, yet some states still have the gall to say there's a funding crisis," he said.
"If there is, then the blame rests comfortably on their heads ... the states cannot and should not be let off the hook for what is ultimately their prime responsibility in terms of how much they spend and how they allocate their spending.
"This is especially the case for those states who scream loudest for more money, yet invest the least themselves."
NSW Secondary Principals Council
(NSWSPC) president,
Lila Mularczyk
, who is an advocate of the Gonski funding model, called the Birmingham's statements "incomprehensible".
"I can't fathom where this incompressible approach of the Education Minister is coming from," she told
The Educator
.
"The evidence is in. It's an evidence-based model and there are narratives and evidence showing how targeted funding is changing learning outcomes. What we now need is certainty of long-term funding."
Mularczyk explained how Gonski funding had resulted in across-the-board improvements in student attendance and engagement.
"In my school as an example, there is data that shows how we now have increased attendance, engagement in learning and submission rates of school work," she said.
"Gonski funding has also contributed to increased entry into university, in some cases trebling from one year to another. This has been a direct result of me being able to employ additional staff to be experts in particular areas."
She said the NSW Education Minister and the Premier were "absolutely committed to a fairer funding model" and that they are currently translating that commitment into action.
"Already, narratives and evidence are coming in from other NSW schools showing how Gonski has made a significant change in learning outcomes and life opportunities."
In a statement,
Australian Education Union
's (AEU) federal president, Correna Haythorpe, called Birmingham's speech "partisan politicking" and provided examples of how Gonski funding had contributed to better outcomes in disadvantaged schools.
"Gonski funding is already delivering extra support to disadvantaged schools and their students, through things like smaller class sizes and targeted literacy and numeracy programs," she said.
"These schools need the full six years of Gonski funding to ensure they get the resources they need to properly educate all their students.
"It is a bit rich for Minister Birmingham to complain about States not funding schools properly when the Coalition Government tried to stop funding agreements which required co-investment from States."